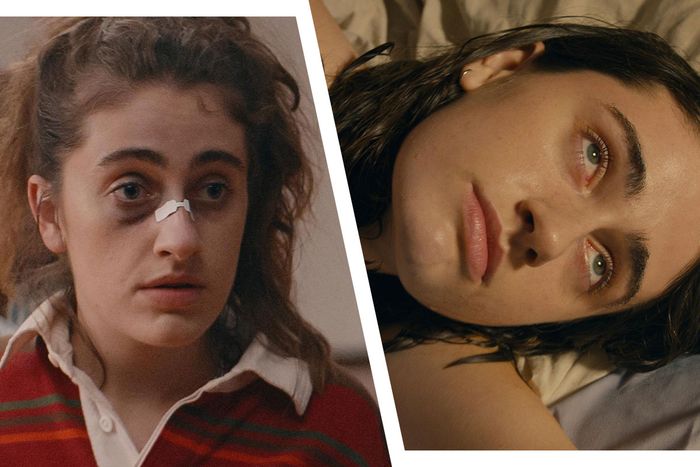 Seeing double: Sennott in
Bottoms
(left) and
I Used to Be Funny
.
Photo: Courtesy of ORION Pictures Inc., SXSW
At the start of I Used to Be Funny, Rachel Sennott scribbles a list of motley topics on her hand: hypocritical youth pastor, teens in Crocs, old babysitter. That last one is how Sennott's character, a wry, Toronto-based 20-something named Sam, might describe herself, though really she prefers distinctions such as au pair and nanny. Sam's true calling is stand-up comedy, hence the material she's enumerating by way of her skin. She landed an enviable set at a Montreal festival, but a person still needs a steady revenue stream.
That's when 14-year-old Brooke comes in — and when Sam's life gets complicated. The movie, which premiered this week at South by Southwest, features Sennott's most ambitious role to date, in a shape-shifting indie that's sometimes hilarious and sometimes harrowing. Sam takes a job supervising a reluctant Brooke (Olga Petsa), who is processing her mother's terminal illness and contending with a father (The Detour's Jason Jones) readying himself for the realities of single-parenthood. After two years of nannying for Brooke, who comes to feel like a sibling, Sam struggles to get out of bed in the morning. Her sympathetic roommates (Sabrina Jalees and Caleb Hearon) applaud her when she manages to take a bath. The why of it all will unfurl over the course of the film, but early on Sam sees a news report on TV that reveals that Brooke has gone missing. Sam already can't bring herself to perform anymore. Now, gutted by her charge's disappearance, she has to decide whether to go looking for Brooke. She may be the only person who can find her.
Sennott carries a much lighter burden in Bottoms, her other SXSW movie, which she co-wrote with her Shiva Baby director, Emma Seligman. That burden is getting laid. Sennott plays PJ, who, alongside her equally unpopular best friend, Josie (Ayo Edebiri), starts a female fight club at their football-centric high school as a ruse to seduce two beautiful cheerleaders (Kaia Gerber and Havana Rose Liu). If their (blood)thirsty extracurricular is successful, maybe PJ and Josie will finally gain enough moxie to ascend the adolescent pecking order. Where I Used to Be Funny parcels out its humor, Bottoms thrusts it here, there, and everywhere, a fusillade of jokes that underscore Sennott's signature comedic delivery: swift, sardonic, and a little exasperated by whatever is going on around her. Put simply, PJ — unlike Sam — is kind of a jerk.
Given a plum Saturday-night slot at SXSW's most glamorous theater, the Paramount, Bottoms played like gangbusters. Punch lines were sometimes hard to hear over the crowd's laughter. This festival loves to program movies that can be described as "wild" or "raucous" (see Everything Everywhere All at Once, Baby Driver, Keanu, Spring Breakers), and while those sorts of titles don't always please commercial audiences to the same degree, they usually have no problem winning over Austin. The cheers continued through the end credits, peaking when Charli XCX was cited (with PEN15 and Cobra Kai composer Leo Birenberg) for the film's music.
Bottoms is indeed quite funny, and it's deliciously queer, presenting a fantasy world in which jocks praise theater gays for their work on the school play and in which most of PJ and Josie's classmates seem at least open to the notion of sexual fluidity. The story is a farce, ultimately hinging on a long-awaited game against a rival school that classmates and the principal alike treat as life or death. I won't spoil the climax, but by the time the girls' fight-club training unexpectedly comes in handy, the movie's extreme silliness makes it feel slight. There aren't a ton of ideas in Bottoms aside from testing the limits of raunch, but Sennott and Edebiri do make a winsome pair. It's hard to root against them at a time when sex is all but disappearing from mainstream cinema.
In her own way, the 27-year-old Sennott is becoming a SXSW fixture, which makes all kinds of sense. Seligman's Shiva Baby short bowed at the festival in 2018, and the feature version was meant to debut there in 2020, until the gala's eleventh-hour cancellation offered an early indication that COVID-19 would be serious. In 2022, the "raucous" A24 horror satire Bodies Bodies Bodies, starring Sennott as a self-involved podcaster dating an enigmatic older hunk (Lee Pace), made her a face of young Hollywood. Sennott's bawdy, chill-girl persona and Kate Berlant–like physicality are a perfect match for the unpretentiousness that sets SXSW apart from other major festivals.
I Used to Be Funny, written and directed by Ally Pankiw (Feel Good), is hunting for a distributor, and MGM will release Bottoms this year. They're both about seeking connection, whether you're a teen outcast or an old babysitter. The former arrives at a much more convincing conclusion, but taken together (and considering she's currently shooting a thriller with Nicole Kidman and Gael García Bernal), one thing is obvious: The age of Rachel Sennott has begun.