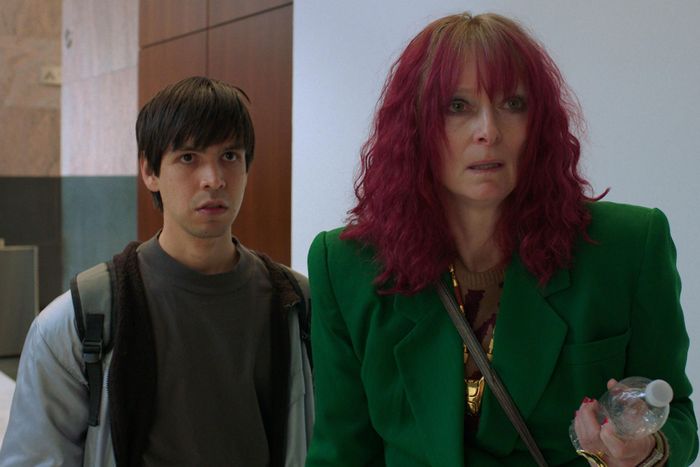 Julio Torres's directorial debut is the latest A24 crowd-pleaser to light up SXSW.
Photo: Courtesy of A24
In July 2021, news bulletins sprung from some otherworldly nirvana to show us our future: Julio Torres was making his directorial debut, and Tilda Swinton would be his leading lady — a match made in Mars. Their resulting collaboration, Problemista, premiered Monday night at South by Southwest, where it was arguably the most-anticipated movie not about dungeons, dragons, or the birth of Flamin' Hot Cheetos. A24, attached to the project since it was announced, had just celebrated Everything Everywhere All at Once's Oscars harvest, and here came another shape-shifting SXSW crowd-pleaser about an immigrant navigating a byzantine legal system that poses life-altering consequences.
Anyone who has seen Torres's inventive comedy special My Favorite Shapes or his woefully canceled HBO series Los Espookys will recognize the lovable whimsy on display in Problemista. He plays Alejandro, an aspiring toy designer (just wait 'til you hear his idea for a new Slinky) from El Salvador who needs a renewed work visa so he can remain in New York City. The U.S. immigration system doesn't prove particularly helpful, and Craigslist gigs, like performing housework while a guy gets off, can only take Alejandro so far in terms of cash flow. While working at a cryogenic facility where people are frozen and then reawakened years later, he meets an erratic art critic named Elizabeth (Swinton) hell-bent on exhibiting the garish collection of eggs her husband (RZA of Wu-Tang Clan fame) has painted. If Alejandro can help her organize the gallery show using software he only pretends to know, then maybe, hopefully, she will sponsor his visa.
Elizabeth, an art-world pariah with crimson hair and a tendency to lash out at any perceived slight, is both a godsend and a thorn. The unyielding bounce in Alejandro's step (not to mention his cute cowlick) signals someone best left to the devices of his own imagination, as encouraged at a young age by his supportive mother (Catalina Saavedra). In any other circumstance, one assumes he would flee Elizabeth's exhausting presence without looking back, and yet the pair develop the distinct kinship that unites outcasts. As Alejandro maneuvers the bedlam of a curatorial process he doesn't really understand, Problemista grows more and more surreal. Larry Owens, last seen playing Chris Perfetti's boyfriend on Abbott Elementary, shows up as a flamboyant genie — Craigslist incarnate, to be bizarrely specific — floating through a parallel dimension.
Torres's film has a spiritual connection to Everything Everywhere, though it's not as high-concept as the Daniels' metaverse spectacle. Both movies have an underlying warmth, as well as a like-it-or-leave-it wackiness. If you thought Jamie Lee Curtis's performance was big, Swinton's is bigger, marrying her acidic boss from Trainwreck with her fragile eccentric from Okja. Not unlike Alejandro's quest to secure his place in America, Elizabeth is looking for the same sense of control we all seek — she just has an abrasive way of showing it. But hey, maybe if he can channel a little bit of her resolve, Alejandro will finally land the Hasbro incubation job he wants.
Problemista played quite well at the Paramount, SXSW's largest theater, though perhaps not as triumphantly as Bottoms, another splashy comedy whose larger-than-life humor is bound to polarize audiences down the road. This has been an especially queer SXSW thanks to Problemista, Bottoms, the tender rodeo drama National Anthem, Lukas Gage and Zachary Quinto's odd-couple caper Down Low, the Meg Stalter vehicle Cora Bora, the Lily Gladstone dramedy Fancy Dance (a holdover from Sundance), and the intimate Romanian documentary Who I Am Not, which follows two intersex individuals. It's nice to see so many of these films explore quotidian foibles like getting hired, getting laid, and getting on with life.
Torres's directorial eye is wholly his own, though one can see shades of Miranda July, Michel Gondry, and Charlie Kaufman in Problemista. Katie Byron, the same production designer behind Zola's hypnotic playfulness, thrives with this material, pouring as much meaning into Alejandro's cramped Brooklyn apartment as she does the dreamscape that backdrops intermittent childhood flashbacks. "I have often been called too niche," Torres said while personifying inanimate objects rolling across a conveyor belt in My Favorite Shapes. Blessedly, as a filmmaker, he shows no desire to change naysayers' minds.