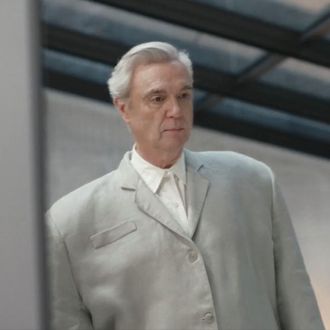 Lookin' sharp, David.
Photo: A24
And you may find yourself in the year 2023
And you may find yourself topping lists of the best concert documentaries of all time
And you may find yourself behind the wheel of a large indie-film distributor
And you may find yourself in a beautiful (Alamo Draft)house
With a beautiful 4K restoration
And you may ask yourself, Well, how did I get here?
Has this ever happened to you? Then you may be legendary director Jonathan Demme's seminal Talking Heads concert film, Stop Making Sense. In the nearly 40 years since its 1984 release, the movie has become a staple of indie-theater screenings, and the Talking Heads have stayed as relevant as ever. So it only makes sense that A24, fresh off an Oscars sweep for Everything Everywhere All at Once (which included a David Byrne original song), would assimilate the film into its coolness-Borg and rerelease it. The clouted-up production company–distributor announced the news via a cute video of Byrne picking up his famous oversize gray suit at the dry cleaners, biking home with it, and trying it on to re-create some Stop Making Sense moves to the sound of "This Must Be the Place (Naïve Melody)." With no release date set, an all-new 4K remaster will hit theaters worldwide later this year. The announcement comes days after A24 rereleased Darren Aronofsky's Pi in Imax for its 25th anniversary. As far as efforts to keep the moviegoing experience alive go, this one's fa-fa-fa-fa-fa-fa-fa-fa-fa-fun!