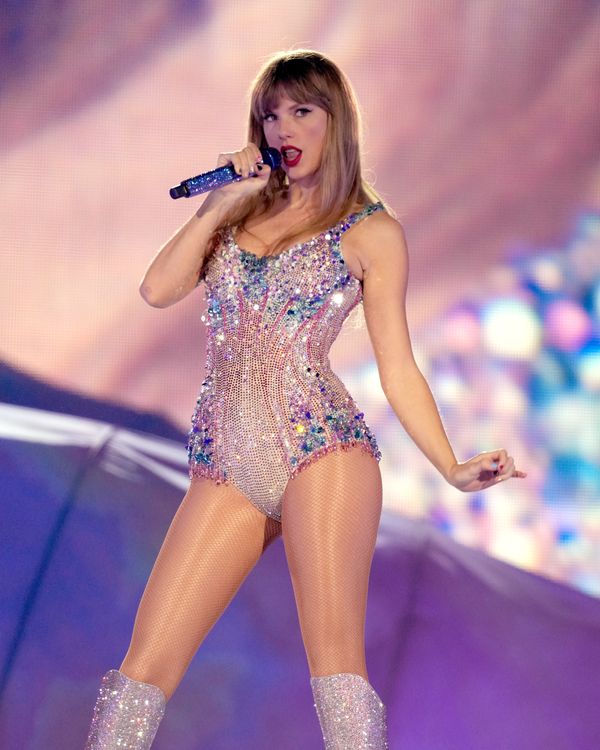 Photo: Kevin Mazur/Getty Images for TAS Rights Management
Taylor Swift's Eras era has begun. The singer officially kicked off her Eras Tour with two back-to-back shows in Glendale Swift City, Eras-zona, on March 17 and March 18. Despite unprecedented ticketing drama, thousands of Swifties showed up for the first stop of Swift's long-awaited return to live concerts. Still, many people missed out on presale codes or couldn't afford expensive seats and fees. So, Ticketmaster, look what you made us do — below, we've compiled clips so that fans can relive what it was like to be at these opening shows, from the packed set list to the famous faces in the audience.
What song did she open with?
She kicked off her set with "Miss Americana & the Heartbreak Prince," then followed with four more songs from Lover (hey, a lot of Swifties are still grieving the cruel summer when Lover Fest was canceled).
What else was on the set list?
Taylor sang for about three hours, performing 44 songs in total (or 45, if you count her spoken interlude of "seven"). Don't see your favorite one below? Don't worry. She announced that each show will be slightly unique. On the first night, her surprise songs were "mirrorball" and "Tim McGraw." On the second night, she swapped them for "this is me trying" and "State of Grace."
What was the stage design like?
Let's just say that she spared no expense.
Did she dance?
Duh. She danced on a chair to "Vigilante Shit," and also turned Mikael Arellano's viral "Bejeweled" dance into official tour choreography.
How many outfits did she wear?
More than a dozen — and that was just on the first night! She changed clothes frequently to match the vibe of each of her albums, though Swifties seemed to particularly love her "Enchanted" ball gown.
Did she say anything in between performances?
She did indeed give several speeches.
Who else performed?
Paramore and Gayle were the first two musical guests. Other openers on the rest of the Eras tour will include beabadoobee, Phoebe Bridgers, girl in red, Muna, Haim, Gracie Abrams, and Owenn.
Which famous people were in the audience?
Laura Dern, the Haim sisters, and an extremely excited Emma Stone all made a trip to Swift City. Mama Swift was also there, of course. And J.J. Watt, who knows a thing or two about performing in a stadium, was so moved by his experience that he posted a review on Twitter.
Did stay-at-home Swifties feel left out?
Well, yes, but they didn't let that stop them from enjoying the show.