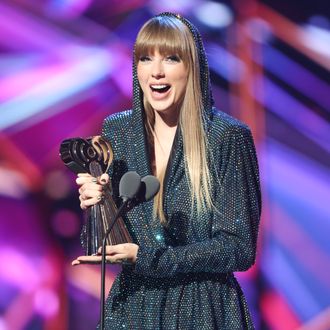 Photo: Christopher Polk/Variety
Just days after she kicked off her stadium tour, Taylor Swift took a quick pit stop at the 2023 iHeartRadio Music Awards to accept the Innovator Award. Introduced by friend and tour mate Phoebe Bridgers, Swift acknowledged that being an innovator wasn't intentional; it was circumstantial. "I never woke up in the morning and thought, You know what I'm gonna do today? I'm gonna innovate some stuff," joked Swift onstage. "What I did do was try to make the right decision for me at the time, whether or not it had ever been successfully done before." While this can apply to many moments throughout Swift's 17-year career in music, she specifically referenced her rerecording of her first six records. "I think the coolest ideas or moves are the new ones, the ones that set a new precedent," Swift explained before thanking her fans for their support during all of her new ventures. But the "Mastermind" shared that not all of her ideas were great ones and reminded people that, in order to succeed, you need to be comfortable with failing. Like the Oscars snub of the All Too Well short film, don't think we haven't forgotten, Academy voters!
Despite any setbacks, Swift is currently at a career high. She just wrapped up four shows of her sold-out, recording-breaking Eras tour and ended the night with a Song of the Year award for "Anti-Hero." If there's one thing for certain, Swift is gonna innovate, vate, vate. Hey, maybe that can be a remix for "Shake It Off (Taylor's Version)." After all, the song is officially fair game to rerecord.