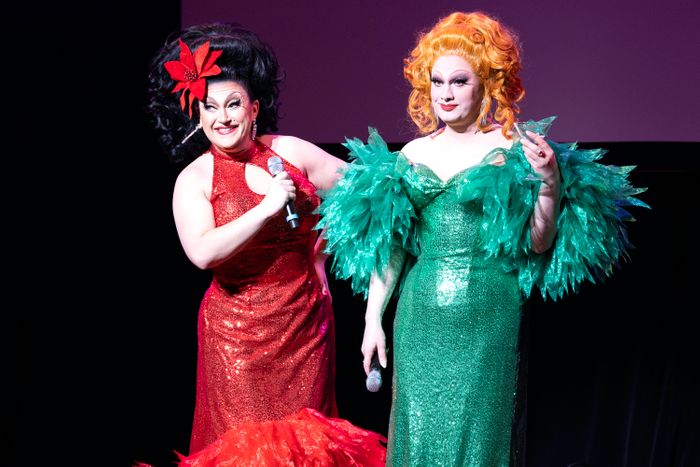 "Those communities need us, but it's hard to know what to do," says drag performer BenDeLaCreme, seen here with Jinkx Monsoon.
Photo: Santiago Felipe/Getty Images
Two weeks ago, Tennessee governor Bill Lee signed a bill banning drag shows in public spaces lest they be glimpsed by an impressionable minor. The legislation is a potentially ominous sign of what's to come with similar laws under consideration in 14 states. The Tennessee decision drew immediate backlash from the queer community and its allies, who decried the bill's questionable necessity and the vague way it's written. In response, artists including Hayley Williams, Maren Morris, Brittany Howard, and Sheryl Crow banded together for an LGBTQ+ benefit concert at Nashville's Bridgestone Arena, while Madonna announced that a portion of proceeds from her forthcoming Celebration Tour stop there will go to trans-rights organizations.
These passed and proposed bills are set to have the biggest effect on local performers and communities, and they've also given pause to some of drag's most notable entertainers, particularly as they route tours through Republican-controlled states. Performers see the law as codified transphobia that turns drag shows into the front lines of a dangerous, and sometimes violent, debate over gender and identity. The bill prohibits "adult cabaret performances" from "male or female impersonators who provide entertainment that appeals to a prurient interest." With its implied threat of arrest along with the existing downsides of touring since COVID (dates are being canceled because of illness and costs are skyrocketing on everything from porta-potties to transportation), the whole idea of hitting the road for a show becomes a lot less appealing.
"It's overwhelming to think about," says the drag performer BenDeLaCreme, who's currently planning this year's popular Jinkx and DeLa holiday tour. "A lot of our heads are spinning, and I think that's part of the intention of these bills, since they're coming at us really fast and furious. Part of the strategy is to keep us off our game and make sure that none of us can get on the same page about what we're doing."
DeLa has since been forced to come to terms with both the risks of touring in such an unstable environment and her willingness to engage with those risks. "Because our tour is for a limited amount of time, we always have to be selective about where we're going," she says. "Unfortunately, it's far enough out that I don't know where the laws will be, and I am making decisions in a way where I'm like, All right, we have to know we're going to be able to go, so we'll have to avoid these spots. It's deeply upsetting because those communities need us, but it's hard to know what to do."
For example, if an artist scheduled a date in Austin and Texas were to enact its drag bill, the artist would either perform and risk arrest or skip out on their show fee while eating the costs of hotel rooms, food, gas, the bus rental, and any other incidentals. They wouldn't be able to sell merch, either, which typically makes up the bulk of an artist's income. "We initially were headed to Florida on this tour, but we've decided to route our run differently because it is a huge financial hit" to cancel the show, "especially for independent artists and people who self produce," DeLa explains.
Dan Polyak, who manages Drag Race All-Stars winner Shea Coulee, says the queen is spending around $70,000 on transportation alone for her opening slot on Betty Who's tour. "She's an independent artist, so there's no label covering that," Polyak says, adding that skipping shows means forgoing both the fee and the approximately $1,000 a night Shea averages in merch sales. "She's had to invest her resources into wanting to be on the road and be a musician because this is something that she's really worked a long time toward in her career."
There's an artist's safety to consider, too. Although a recent stop in Nashville had been on the docket for months, Coulee's team didn't go out of its way to promote the show in advance in case anti-drag protestors show up and threaten the safety of attendees. And while most marquee queens say they've upped their security since the 2022 shooting at Club Q in Colorado Springs, the added muscle often comes at an additional cost both monetarily and spiritually. Alaska Thunderfuck 5000, who tours both as a solo artist and with her podcast, Race Chaser, says after the Club Q shooting, "We started to have conversations that I had never had before about how many security guards there are and where the exits were."
"None of us are fans of having weapons on site," adds DeLa, who decided to add more security to her 2022 holiday tour after the Club Q incident. "But we had to make sure to have at least one armed guard, if not more, at every single event because that is now a necessity. I can't imagine a future in America in which queer people do not have to do that at a show, and that's assuming they have the means. We are in a place to do that, and that is a priority for us, but many, many artists are not in a position to be able to protect themselves or their audiences financially. And that's very scary."
Artists also have to decide how far they want that protection to extend and at what expense. Depending on the capacity of the venue and whether it's a union room, precautionary wanding and bag checks can run artists anywhere from $2,000 to $20,000 a night — the entirety of which comes out of their pockets. "We're all public figures in these spaces. We might have metal detectors and armed guards at the show, but we still have to walk to the tour bus at the end of the night," DeLa says.
Companies who work with drag queens have also become more concerned with staff safety. Producer Entertainment Group's Jacob Slane has promoted Drag Race performers since the show's first season, when he was a publicist for Viacom. "It has never felt like this," he says. "We've always dealt with ignorance and we've always dealt with homophobia, of course, but never this kind of vitriol and threats of violence." In turn, Slane says, he's had to up security at his offices and for his 50-or-so-person staff.
"My clients are people who have had to fight for years to receive the kind of respect that other comics or singers get," says Slane. "Every day of this job — even now that it's mainstream and people are making great money — has always felt like a form of activism toward helping queer people be successful. At this moment, it's like we're back to square one politically."
Ultimately, it's up to the performer how much risk they want to assume. While Alaska says she'll do drag wherever, whenever, "because that's what I do," others, like BenDeLaCreme, say they're deeply troubled by having to spend precious hours and brain power trying to figure any of this out. "We're being put in this terrible position where we are having to bear the brunt of these insane legislatures," DeLa says. "We're having to make decisions about if we're going to put ourselves at risk and if we're going to put our audiences at risk in order to make a statement about how incredibly messed up this is. I don't think there are any right answers."