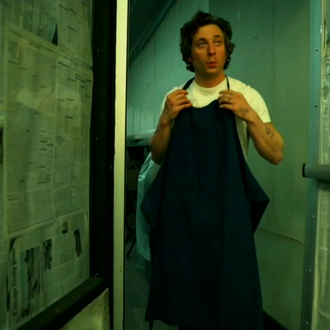 The guy at the Bear.
Photo: FX/Twitter
The Beef is dead, long live the Bear. FX snuck a teensy little teaser for season two of The Bear into the 2023 Oscars broadcast. Right after "Naatu Naatu" tore the roof off the Dolby Theatre, and right before some spon-con for the Academy Museum, we got the saddest character shots of a comedy you've ever seen with everyone mopey, in slow motion, and tinted green like it was an anti-drug PSA. Which … in a way, The Bear kinda is.
When last we left our heroic chefs, they'd just come into a ton of tomato-soaked money, and were beginning to blue-sky a new restaurant. Now the kids are getting ready to remodel. Sydney (Ayo Edebiri) even has a sledgehammer, presumably to do the funnest part of any renovation (demo) but possibly also to bash Carmy (Jeremy Allen White)'s face in. Find out which she gets to first when The Bear comes roaring back in June.