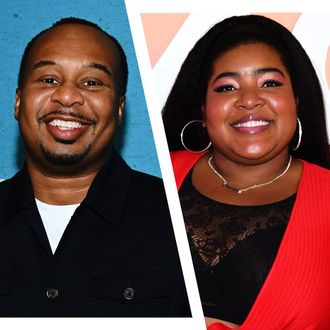 Hosts of the Day.
Photo-Illustration: Vulture. Photos: Getty Images
With 2023's White House Correspondents Dinner fast approaching on April 29, the event's host, Roy Wood Jr., is getting a little bit of extra practice helming a politically minded comedy show ahead of the big day. The third slate of guest hosts to steward The Daily Show in its post–Trevor Noah era dropped on March 24, and kicking off the lineup this trip around the block is current Daily Show correspondent Wood. Per the announcement, he's scheduled to take custody of the show the week of April 3. It's about time!
In fact, now that big names like Sarah Silverman, Wanda Sykes, and Hasan Minhaj have taken turns behind the desk, the show's entire roster of current correspondents will get a chance to ride The Daily Show Ferris wheel. Following Wood, the reins will be passed to Jordan Klepper (week of April 17), Desi Lydic (week of April 24), Dulcé Sloan (week of May 1), and Michael Kosta (week of May 8), while dates for Ronny Chieng and Lewis Black are yet to be announced. Will Jordan Klepper be able to create the magic of his Trump rally field pieces behind the desk? Will Ronny Chieng have Hasan Minhaj back on as a guest to continue their intra-Asian feud? The Daily Show will continue to feature guest hosts until fall 2023. But after Wood and company have stepped up to bat, maybe Comedy Central will realize that the Noah-placement they've been searching for was inside their own house the entire time.
Below, a list of all the comedians who have guest-hosted The Daily Show since Noah's departure, and comedians currently on the schedule:
Week of January 17: Leslie Jones
Week of January 23: Wanda Sykes
Week of January 30: D.L. Hughley
Week of February 6: Chelsea Handler
Week of February 13: Sarah Silverman
Week of February 27: Hasan Minhaj
Week of March 6: Marlon Wayans
Week of March 13: Kal Penn
Week of March 20: Al Franken
Week of March 27: John Leguizamo
Week of April 3: Roy Wood Jr.
Week of April 17: Jordan Klepper
Week of April 24: Desi Lydic
Week of May 1: Dulcé Sloan
Week of May 8: Michael Kosta
This post has been updated throughout.