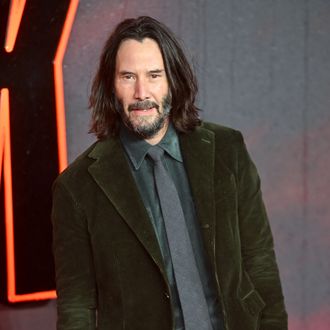 Keanu Reeves was formerly set to star in the series.
Photo: Samir Hussein/WireImage
Just months after The Devil in the White City's director Todd Field and star Keanu Reeves left the show, Variety reported that the series is no longer going forward at Hulu. The television adaptation of Erik Larson's nonfiction book of the same name was green-lit in 2019 and was being executive produced by Reeves, Leonardo DiCaprio, and Martin Scorsese. It would've been the first major television role for Reeves, who signed on due to Field's involvement and left after Field departed. It's reported that the show is still being shopped to other distributors without Reeves and Field. The story follows architect Daniel H. Burnham, who is in charge of the 1893 Chicago World's Fair, where the "world's first serial killer," Dr. H.H. Holmes, created his infamous "Murder Castle." If the show gets picked up elsewhere, maybe DiCaprio will take up a leading role.