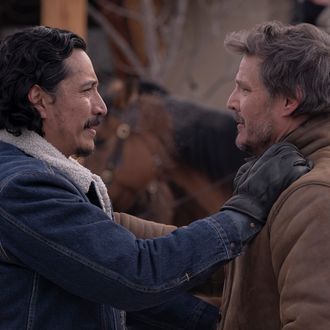 Photo: Vulture; Photo: Warner Brothers
If you ever wondered about Joel, Sarah, and Tommy Miller's lives pre–The Last of Us, Gabriel Luna has an answer. Kind of. At a South by Southwest panel hosted by HBO Max, the actor spoke with Variety's Selome Hailu about how he got into character, playing the video game (when playing on perma-death mode, he died 15 minutes in by getting caught on a doorknob, thus being eaten by Infected), Pedro Pascal's coffee order ("a quad [espresso] on ice twice a day"), but most importantly, how he, Pascal, and Nico Parker bonded as the Miller family. While Luna and Pascal originally got to know each other through mutual friends, they both worked with director Robert Rodriguez on previous projects. Luna revealed one of his favorite moments before shooting the first season was getting to raft down the Bow River in Alberta, Canada, with his fictional family.
"It's a three- or four-hour float, a wonderful time getting to know Nico, getting to know Pedro," Luna said, before explaining how the trip nearly went south as the trio almost missed their spot to get off. "They tell you when you disembark, that there's a red bridge where you have to get all the way to the left of the river." The almost-incident prompted Luna and Pascal to jump out of the boat, even aiding another family — very un-Joel of him to help anyone else, by the way — as they, too, were floating past the red-bridge exit. "The dad of the family doesn't even get out of the raft, which struck us as kind of messed up … I know I'm the Ghost Rider and he's the Mandalorian, but we could've used a little help." Well, maybe he would've helped if Baby Yoda was in the boat.