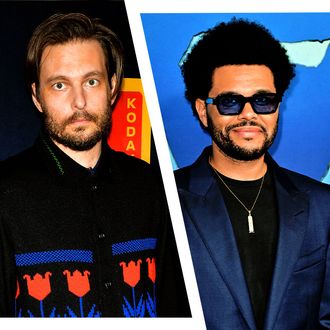 Menaces!
Photo: Getty Images
Rolling Stone has published a report from behind the scenes of upcoming HBO series The Idol, suggesting that the Weeknd's creative vision and Euphoria creator Sam Levinson's directorial rehaul have warped the series into what members of the production describe as "sexual torture porn" and the "rape fantasy" of a "toxic man." Furthermore, journalist Cheyenne Roundtree paints a picture of how the production set up indie director Amy Seimetz to fail, scrapping millions of dollars' worth of her and the crew's work in favor of Levinson's much more "disturbing" take on the story.
When The Idol was announced in 2021, HBO described it as a "subversive, revelatory take on the cult of the music industry … unlike anything HBO had ever done before." It stars Lily-Rose Depp as a pop singer who is drawn into a powerful cult led by the enigmatic Tedros, played by Abel Tesfaye, a.k.a. the Weeknd. "What I signed up for was a dark satire of fame and the fame model in the 21st century," a member of the production told Rolling Stone. "The things that we subject our talent and stars to, the forces that put people in the spotlight and how that can be manipulated in the post-Trump world." The original script was a layered narrative about exploitation in Hollywood, and HBO encouraged Seimetz to "put her own spin on the show." But first-time showrunner Joe Epstein was slow to deliver finalized scripts, and when the production went on hiatus in April 2022, Seimetz left the project. A Deadline report at the time said that this was in part because Tesfaye felt that the project had too much of a "female perspective."
With Levinson at the helm, the aforementioned member of production said that The Idol "went from satire to the thing it was satirizing" and "Levinson's scripts contained disturbing sexual and physically violent scenes between Depp and Tesfaye's characters." Levinson reportedly stopped sending scripts to HBO on the assumption that he had carte blanche due to the success of Euphoria. He scrapped nearly the entire project, which was 80 percent complete under Seimetz at a budget that was rumored to have ballooned up to $75 million, and essentially entirely reshot the series. "It was a show about a woman who was finding herself sexually turned into a show about a man who gets to abuse this woman and she loves it," said a crew member. HBO has yet to announce a premiere date for The Idol.