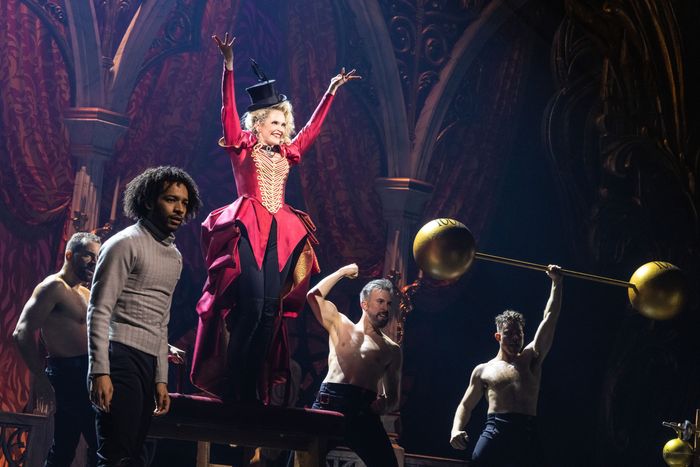 From
Bad Cinderella,
at the Imperial.
Photo: Matthew Murphy and Evan Zimmerman
Midway through Act One of Bad Cinderella, one of the stepsisters looks at Cinderella's outfit and shouts, "It's giving rags! It's giving peasant!" I regret to inform you that this — meant to invoke already out-of-date internet lingo, itself cribbed from Black queer slang, that is so tired that by the time it reaches a Broadway stage you can't help laughing at the stupidity — is the funniest line in Bad Cinderella. It's also one of only a few lines that I can recall from Andrew Lloyd Webber's latest not-so-mega musical, less than 24 hours after I saw it. I took a second to jot it down in big letters and draw a star next to it in my notes, because at least someone had said something memorable. The rest of the thing melted over me like a sludge of sherbet: sticky-sweet, acid-toned, zero nutritional value, prone to give you a mild headache. It's not a fiasco, or even a fiasca, because that would be more fun. In fact, its occasional baseline competence makes it all the more insubstantial. Don't ask me to try to hum any of its tunes, aside from the endlessly repeated title song. It's giving forgettable. It's giving … why?
To that, I don't have an answer, but I can at least tell you how. Bad Cinderella first appeared a few years ago in London as simply Cinderella. In its announcement in 2018, Lloyd Webber promised that, in his collaboration with book writers Emerald Fennell (then just a promising young woman, before the release of Promising Young Woman) and Tom MacRae (who seems to have left the project since), Cinderella would become a "modern, feisty girl." (Foreboding phrase, frankly.) A few years later, after the world had been rocked by both the pandemic and the Cats film, Cinderella opened in the West End in late 2021, with Fennell's book and Lloyd Webber battling the headwinds of Britain's COVID protocols along the way. He closed the show in June 2022, having the cast read a statement that referred to the whole boondoggle as a "costly mistake." (He apologized later.)
Thus, reborn out of the ashes of bad PR, Bad Cinderella has landed in America. We've got a new cast, as Linedy Genao replaced London's Carrie Hope Fletcher as B.C., and a revised and supposedly improved book, with Alexis Scheer now credited with "book adaptation." Laurence Connor, of the misbegotten spectacle that was the Miss Saigon revival as well as Lloyd Webber's School of Rock, is still directing, and the lyrics are still by David Zippel (of Disney's Hercules and Lloyd Webber's fog-forward The Woman in White). I didn't see Cinderella in London, so I can't compare anything to it, but word was that the American version is a step up. At the very least, Gabriela Tylesova's costumes look expensive, as if Fragonard were watching too much mid-2000s MTV, and Bad Cinderella has brought on two professional scene-stealers of the American theater: Carolee Carmello, as Cinderella's stepmother, and Grace McLean as the queen. Is that enough to make it good? No. Or bad in a fun, camp way? Absolutely not. You have to earn that.
I've held off trying to describe the plot of Bad Cinderella because it's such a mess, but I'll try my best: The story is set in the fictional 18th-century (I guess?) French (I'm pretty sure) kingdom/city-state/village (no one gives an accurate reckoning of its borders) of Belleville. The citizens spend all their time primping and working out, including a chorus of shirtless hunks who do kettlebell-ography by JoAnn M. Hunter. Cinderella offends their sensibilities because she dresses like a queer-coded witch from the later seasons of Buffy the Vampire Slayer and because she vandalizes a statue of their beloved Prince Charming. The actual, non-bronze Prince Charming is missing in action, which means that his brother, Sebastian (Jordan Dobson) stands to inherit the throne. Sebastian, a dweeb, is Cinderella's only friend. They obviously have feelings for each other but can't admit it, and their unspoken romance is tested when his mother the queen decides to host a ball in order to marry him off. You both can and can't imagine how things develop from there. To fit in at the ball, Cinderella acquiesces to a makeover from the local godmother (Christina Acosta Robinson), who is styled like the Plastic Surgeon of the Opera and works in a Gothic dry-ice-filled operating room. Once Cinderella shows up to the ball at the start of Act Two, Bad Cinderella piles on a series of complications and convenient coincidences, accelerating away from anything resembling either the story you know or reasonable human psychology. The overarching theme is that you should block out the superficial messaging of fairy tales and not abandon your truest self for love, though that was all better expressed in Shrek 2.
Within that half-risen soufflé of a plot, the cast of Bad Cinderella tries valiantly to prevent the collapse of your interest. Genao, using her own Brooklyn-Dominican accent, leans into Cinderella's charming petulance where she can and finds sparks of something approaching chemistry with Dobson — at least up until they start singing Zippel's rubbery recitative. She's good, although nobody may be incandescent enough to make an impression with a character so totally underwritten. Her upper register also gets shaky when she tries to pull off the swooping contemporary ballads Lloyd Webber keeps handing her, likely because he's chasing the pop sound of the actually inventive and revisionist Six. (It does not help that one song relies on the phrase "heart of stone.") Carmello and McLean, meanwhile, are Bad Cinderella's not-quite resuscitating graces, each wringing as much as she can out of a part written simply as a rude older woman. McLean, so wonderfully brittle in The Great Comet, plays her role as Alice in Wonderland's animated Queen of Hearts made human, shouting every fifth word or so to keep everyone on their toes. Carmello — deployed, after 1776, for the second time this season in a production that just doesn't work — plays the stepmother like a Real Housewife who's acquired a vaguely posh accent after three days in London. The two of them throw down in a number called "I Know You," trading blackmail threats by implying they're familiar with the other's lower-class background and experiences in sex work. That dynamic's fun, until you realize just how many jokes there are about shrewish women within a show packaged as a feminist something-or-other. The town's hunks are all quite hot, but as much as it pains me to admit it, a musical can't live on beefcake and character actresses alone.
As you walk to the subway after you leave Bad Cinderella, you may find yourself running into the crowd flowing out of Phantom a few blocks to the south, at least in the remaining weeks before it closes for good. When that's gone, Bad Cinderella will be the only Lloyd Webber musical on Broadway (until they inevitably reboot Phantom on the cheap, with a shrunken orchestra, a few years from now), which is a grim statement of its own. Phantom's score is bloated and obvious, but at least it's trying to be a spectacle. Bad Cinderella shrinks from itself. It parrots sentiments and sounds better expressed in other shows, making me long for the relative wit and clarity of & Juliet or even the blind stupidity of Diana. It attempts to say barely anything, and it succeeds. Why, at this point in his career, is Lloyd Webber so intent on telling this story? In that original announcement, there was mention of his desire to live up to the career of Richard Rodgers, who made his own Cinderella with Hammerstein — implying a dull competitive impulse to leave a mark and make some money where someone else already has. Is there any better answer in the text of Bad Cinderella? Only the kind of obvious moral he should have listened to himself: When Cinderella does arrive at the ball after her makeover, in a bedazzled white dress, Euphoria-style eye makeup, and a blindingly blonde wig, desperate to please and no longer "giving rags," Prince Sebastian doesn't recognize her. She looks as bland as everybody else.
Bad Cinderella is at the Imperial Theatre.