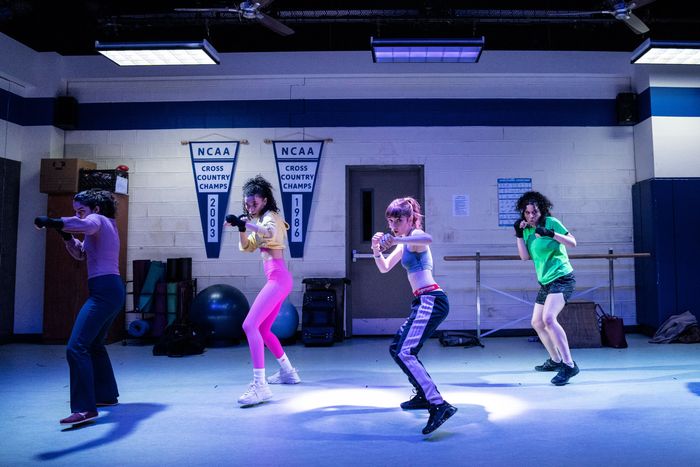 From
How to Defend Yourself,
at New York Theatre Workshop.
Photo: Joan Marcus
When I was in college, we learned about consent by way of frozen yogurt. Counselors had us all do a series of skits where one freshman was supposed to ask the other out to get fro-yo, and their partner had secretly been assigned a level of interest beforehand: enthusiastic about fro-yo, absolutely not interested in fro-yo, etc. The point was supposed to be that it's easy to tell whether or not someone consents to any activity, whether it's a dessert date or sex—I have strong memories of a senior saying "Guess what, guys, we're not just talking about fro-yo!"—but given that we were a bunch of unruly college students, the actual exercise devolved into people overplaying to get laughs, making absurd innuendos, and flirting with each other on the side. For the rest of our time in college, sex and frozen yogurt seemed swirled together, and people continued to joke about one while meaning the other (I mean, they were usually talking about sex; it was college), but the outcome was that we probably did end up thinking more about consent. Those weird, well-meaning, and condescending exercises tend to stick with you, no matter how dopey they seem. Do they make us all better people, actually change your actions, and keep us safe? That's an open question.
Liliana Padilla's How to Defend Yourself is a hilarious and unsettling play about exercises like that one: A group of students gathers in a spare room of a college gym room for a series of lessons based around the title of the play. We meet Diana (Gabriela Ortega) and Mojdeh (Ariana Mahallati), enthusiastic and dorky close freshman friends who have signed up to learn about self-defense partially because Mojdeh thinks it might provide her with an entry into a sorority. Brandi (Talia Ryder), the supremely put together vice-president of the sorority who shows up in Supreme exercise wear, has arranged to teach the class because one of their members has been raped. Brandi brings along Kara (Sarah Marie Rodriguez), the sorority's poised social chair who is only half-interested in this whole deal. Within a few sessions, the cohort swells to include Nikki (Amaya Braganza), a timid student who tries to slip in through the doorway unnoticed (she has a real gift for landing comedy with the smallest tilt of her chin) as well as two fraternity members, Andy (Sebastian Delascasas) and Eggo (Jayson Lee), who somewhat ineptly try to provide moral support and talk about trying to put good behaviors in their "man boxes."
Padilla, who directs this production alongside Rachel Chavkin (of Hadestown) and Steph Paul (who also serves as movement director), uses the gym-room sessions like a particle accelerator for various collegiate perspectives on consent and assault, examining the results when students from different orbits collide. Just as they would if they were talking about fro-yo, everyone approaches the exercises in How to Defend Yourself with different levels of seriousness, keeping their actual intentions to themselves or not even understanding their own intentions, which makes for rich material. Padilla works through a whole range of combinations from the central cast, letting the actors play off one another in a variety of goofy and practical exercises (go home and practice getting out of a wrist hold), all cleverly blocked. The set pieces are little fugues of activity, the conversation wandering among different pairings of students and building to sexually confused crescendos. One exercise about consent, in which everyone is supposed to instruct their partner to do whatever they like to their forearm, leads to Rodriguez's louche Kara, fed up with Brandi's prim righteousness, shouting "I'm just holes!" and "when I'm fucking I just wanna get fucked, sorry!"
As the classes progress, in keeping with the egalitarian spirit of the play, each member of the young cast gets a standout moment like Rodriguez's aria there. Lee, playing an over-cautious bro, goes on a tear about his fear of accidentally crossing a line (he also gets a standout dance break); Mahallati gets touchingly starry-eyed in fantasies of losing her virginity; Ortega charges into the play and then reveal softnesses in the second half (if anything you want more of that side of the character); Delascasas is slick and then in a later monologue troubled; Braganza has the kind of character who lingers in the background that you wait to watch erupt because you know you'll see something good (oh, you certainly do). Ryder keeps brittle to the point of eerie, all tense in the eyes, kicking and punching with unnerving precision. Brandi's vapidity is self-protection of its own.
Despite Brandi's best attempts to drill rationality into her fellow students, there's something that keeps unsettling her and them, messing up their footing: lust, which seeps out like lava around the floor of the gym room. Padilla burrows toward the things that scare each of the characters, like the need for oblivion in Kara that's equal and opposite to Brandi's desire for safety, and lets them express facets of their sexual impulses that unnerve themselves and the audience. As we learn more about the circumstances of the assault that inspired Brandi to teach the class, we see how it touches nearly all the sorority and fraternity members involved. It haunts them, makes them feel guilty, and even, in the corners of their mind, turns them on.
How to Defend Yourself's rational structure breaks down as the atmosphere in the class does We go from a precise taxonomy of characters into eros-and-thanatos-style abandon, which is revealing in its own right. The production incorporates musical breaks between scenes, layering snippets of pop songs over characters dancing or practicing self defense, and then, near the end, breaks into a sort of dream ballet of a college rager. There are things the students say with their bodies that they can't express with words, and things they can't do to protect those bodies no matter how much they train. Brandi introduces everyone to her class by making them chant that their bodies are weapons. If only they could reduce them to something as simple as that. A body is this dangerously squishy unruly thing, a weapon, a target, a thing to be protected and enjoyed and used and defended and seized.
Locations where strangers spend time together, like that self-defense class, are staple settings for drama. In The Coast Starlight, Keith Bunin sets the action aboard the Coast Starlight Amtrak train, running up the West Coast from Los Angeles to Seattle. Bunin summons together an intriguing cross section of Californians for the ride, starting with a marine fleeing his base in Oceanside (Will Harrison) and an aspiring Hollywood animator (Camila Canó-Flaviá) who sketches him across the aisle. The trick and also frustration of the play, however, is that Bunin's characters don't interact much. In the actual present tense of the play, they mostly just do what people do on trains, which is daydream and watch one other from afar. At the same time, the characters talk to each other and to the audience from a different, shared perspective, discussing what might've happened if they had in fact talked to each other.
That's a clever conceit, but it also stalls the play in a hazy hypothetical space. The characters reveal their backstories one by one without going very deep. You want a bigger surprise from each character beyond the broader types that Bunin introduces, because the play's premise implies that there ought to be more to learn in talking than in merely observing. But the conversation doesn't deliver much. Aside from Mia Barron, playing a woman who storms onto the train and delivers a whole bravura monologue about a break-up at the Esalen Institute (I could watch a whole play about her character's crunchy gripes), the actors don't make significant impressions. Tyne Rafaeli, directing, keeps the action among chairs laid out on a square platform onto which there are projections of blurry color that you might see out of a train window. Intentional or not, the effect coaxed me toward zoning out. I started to fantasize, in fact, about how relaxing it might be to go on a long, quiet trip by train.
How to Defend Yourself is at New York Theatre Workshop until April 2.
The Coast Starlight is at the Mitzi E. Newhouse Theater at Lincoln Center Theater until April 16.