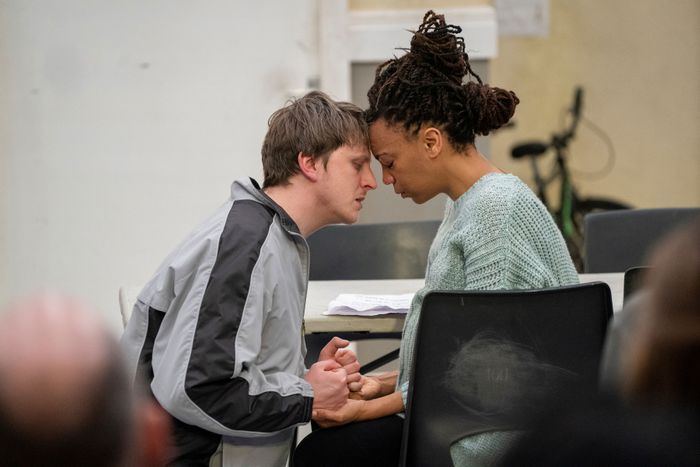 Alex Austin and Janet Etuk in
Love
.
Photo: Stephanie Berger
In one scene midway through Love, a mother played by Janet Etuk starts pouring soup into bowls for her husband and children. She metes out portions that seem too small, evenly dividing the limited supply of food as if she has done the grim math behind this action many times before. The gesture, like many aspects of Alexander Zeldin's production, goes without extra emphasis but persuades you of its reality. The small, close-up gestures, piece by piece, add up to a captivating whole.
Love takes place in the grimy common area of a hostel in London, among families who are clinging to the hope that soon the government will find a place for them elsewhere. Etuk's character, Emma, pregnant and close to her due date, and her partner, Dean (Alex Austin), are new here, at first eying the other residents with suspicion and trying to get their two children to stay in their bedroom. Next door, Colin (Nick Holder) tends to his aging mother, Barbara (Amelda Brown), rushing her ahead of others to get into the shared bathroom and then apologizing. Tension also develops over the shared kitchen, where the residents protect their own tableware and claim rights to space in the too-small fridge.
Given that it starts with that initial discontent, you might assume that Love would ratchet up the discord among the residents toward some big climax, but Zeldin avoids the predictable. Instead, we see a series of encounters that remain smaller-scale and quite desperate. Similarly, we get more details about the characters' lives, glimpsing details of their own personal histories as we peer at what we can (a bit of a bed frame, some laundry arrayed in a cheap organizer) through doors left ajar on Natasha Jenkins's set. Dean keeps calling a caseworker to try to get action on their case while his daughter loudly practices for her Nativity play. Adnan (Naby Dakhli), a Syrian newcomer to the building, watches a bit of Billy Elliot on his phone, keeping an eye on the volume. Later on, he bonds with Tharwa (Hind Swareldahab), a Sudanese refugee, speaking in Arabic about orange juice. Often, the encounters pivot on the ways the characters guard themselves engaging with the other residents on a human level. These circumstances have, reasonably, made them distrustful, though as they spend more time in such close proximity, it becomes harder for them to shut everyone around them out.
Zeldin based Love on research done with residents of temporary housing like the ones depicted in the play, working with them in various workshops in the play's development process. The result isn't quite docudrama (Zeldin himself doesn't like that label), but it has that closely observed air: You sense an underlying structure even as he keeps the action at a simmer, as well as a number of observations (like pouring the soup, or the characters' protectiveness of their own rolls of paper towels and toilet paper) that feel directly brought in from real life. Swareldahab, a refugee like her character, had no professional acting experience before joining Love when it premiered at the National Theatre in London in 2016. Since then, the production has toured Europe and been made into a film for the BBC, and this is its American premiere.
A story about housing precarity is, perhaps, an odd thing to have become a success, but Zeldin's telling grips you as it goes along and doesn't let go. That's partially owed to sentimentality, not enough to oversweeten the story but enough to aid its digestibility: The action takes place in the run-up to Christmas, complete with a scene where characters unfurl decorations. More crucially, there is the show's porous setup: A portion of the audience sits in chairs on the floor of the set, which is at the same level as the floor of the theater, and a character will occasionally take a seat among them. Zeldin anticipates that reflexive pulling back from a story you decide is too grim to take, and he's staged the production to surround and almost consume you. The story is as much about the characters' trying and failing to see each other as it is about the audience's doing the same. By the daringly staged last few minutes, it literally reaches out to you.
Love is at the Park Avenue Armory through March 25.