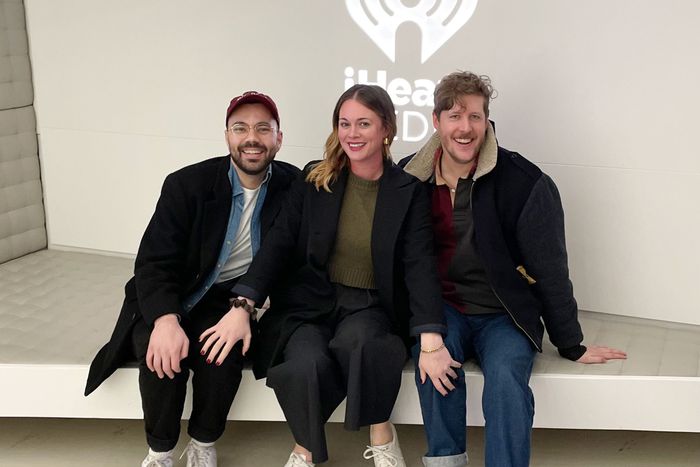 Photo: Courtesy of StraightioLab
The comedy-podcast universe is ever expanding, not unlike the universe universe. We're here to make it a bit smaller, a bit more manageable. There are a lot of great shows, and each one has a lot of great episodes, so we want to highlight the exceptional and the noteworthy. Each month, our crack team of podcast enthusiasts and specialists and especially enthusiastic people will pick its favorites. We hope to have your ears permanently plugged with the best in aural comedy. You can also keep up with all our comedy-podcast recommendations in Vulture's newsletter 1.5x Speed, and don't forget we have podcasts too: Check out Good One, Into It, and Switched On Pop.
StraightioLab, "Dinner Parties" with Alison Roman
In 2015, U2 appeared on the podcast U Talkin' U2 To Me? At the time, I thought, Comedy podcasts will never top this moment. But then Alison Roman appeared on StraightioLab. Since nearly the start of the show, the idea of Roman has always been the third co-host of StraightioLab, not unlike how the city was always the fifth main character on Sex and the City. There is actually a reasonable explanation for this: StraightioLab is many things — a podcast about straight culture, a podcast about gay culture, a podcast about podcasting — but because it launched in early 2020, it is also a podcast about reckoning with what culture even means anymore after the emergence of COVID, and "Alison Roman is pandemic" culture. Anyway, Roman was so good in this episode. The topic was "Dinner Parties," but really it was an episode about what happens when people who live in Brooklyn find themselves in Manhattan for a few hours. It is also an episode about the highs and lows of being mother, with "It's awful being mother" becoming the new "Heavy is the head that wears the crown." Also, they talk about how straight ramps (the allium) are, and it is, like, exactly right, and everything a listener dreamed of from this team-up of Earth's greatest heroes. — Jesse David Fox
Listen: Spotify | Apple | Website
Breakfast Buffet, "Episode 11"
Hungry for a little celebrity gossip in the morning? If so, stay far away from Breakfast Buffet, the gonzo longform sketch podcast masquerading as a Today parody from comedy partners and erstwhile Search Party stars Jeffery Self and Cole Escola. As macho talk-show anchor Larry Shed (who "likes to eat meat") and his simpering co-host, Diane Denise-Kitchen (who, being a woman, "only orders salads"), Self and Escola, respectively, spend every episode trying to out-sicko each other with increasingly upsetting headlines (picture Hoda and Jenna if they were being mind-controlled by Eric Andre and Christeene Vale). Episode 11, their first "special episode" since the podcast premiered last November, is truly a doozy; it packs uxoricide, Harry Styles's cum rags, drowning babies, and the sudden death of Mary-Kate Olsen into 22 disorienting minutes. In addition to writing the episode, Self and Escola also voice all the characters, including the flatulent tap-dancing President Grandma and infant weatherman Lionel the Baby. Yes, it gets grotesque, but as a showcase for two of our most demented working clowns, it's bravura stuff. — Sean Malin
Listen: Audible | Apple | Spotify
Boys' Club, "The Brotherhood of the Traveling Pants" with Robby Hoffman
The great part about life under patriarchy is that boys seem to never grow out of boys' clubs — they just move from the playground to, say, the Senate. But queer comedians Conor Janda and Nico Carney are reclaiming boys' clubs in one of the biggest there is: comedy. Still, their version of a boys' club is anything but exclusive — the two are relatable, refreshingly themselves, and literally end each episode with a smooch. Better yet, Janda and Carney can discuss nuanced issues while maintaining an endearing level of silliness; see Janda's inability to remember idiomatic expressions or his relatable desire to land on the Hot Guys Who Read Instagram. Guests this month have included comedians Sydney Duncan and Robby Hoffman, who each discuss the boys' clubs they are a part of, ones they aren't a part of, and ones they hope to see in the world. The co-hosts know what it is to be excluded, and they're making the world of comedy podcasts friendlier, one butchered idiom at a time. After all, a squeaky wheel is right ten times a day. — Kriska Desir
Listen: Spotify | Apple | Website
Fangirl Central, "Musical Theater & Gay Yearning" with Dylan Adler
Comedians and sisters Amanda and Amber Miller are professional fangirls and vow to embrace every part of what it means to grow up as a Directioner, Belieber, Gleek, and more. Their new podcast Fangirl Central celebrates those who stan across various fandoms and how being a superfan, especially in your formative years, affects your adulthood, hopes, and dreams. In the fourth episode, the duo, along with guest Dylan Adler, discuss their obsession with Twilight and how neither are truly Team Jacob or Team Edward. ("I'm actually against both [Edward and Jacob], and I want [Bella] to end up with a woman," Adler declares as they provide a mini-retrospective on the Twilight saga using their fangirl knowledge.) Throughout the episode, they each explain how their favorite fandoms influence their comedy today. Having grown up a fan of musical theater, Adler explains how it influences his style of comedy and performance and his interest in the creation of his favorite musicals. The show is a sincere but playful look at the things we love so much that we're told to be ashamed or embarrassed about, but it also acknowledges the ridiculousness of fandoms and how we can still love them anyway, even into our adulthood. — Alejandra Gularte
Listen: Spotify | Apple | Website
Tell Me About It, "Dr. Moiya McTier Loves Exoplanets!"
Adal Rifai of Hello From the Magic Tavern fame and game podcaster Eric Silver bring a new spin to the esoteric-expertise show with Tell Me About It, on which Rifai plays an eccentric multibillionaire obsessed with the 1978 movie musical Grease who attempts to establish its singular importance by systematically disproving his weekly guests' favorite things. He and his butler, played by Silver, facilitate the conversations through games, strained puns, and snickering. Thus far, the house has always won, but genuinely funny astrophysicist Dr. Moiya McTier's love of exoplanets comes closest to challenging that by shattering the points totals of more objectively trivial interests like Janet Varney's collection of miniatures. It's a swerve in subject matter, but billionaires and big dreams of space exploration are an unfortunately well-documented pairing thanks to losers like Elon Musk and Jeff Bezos. That backdrop provides Rifai and McTier with an easy rapport to build on for a potentially seminal Tell Me About It outing full of exoplanet speed dating and portmanteaux about pervert butlers. — Noah Jacobs
Listen: Spotify | Apple | Website
Dear Hank & John, "Episode 365: Some Guy Died in This House"
The Dear John & Hank podcast hit episode 365 this month, "which means you can now listen to an episode of our show every day for a year," enthuses John Green, one half of the brother-battery that makes up the show. Hank Green, like his sibling, is an author, but this podcast brings them together to create an ideal combo of humor, deep thoughts, and mind-blowing curiosity. They cover a lot of trivia territory from listeners writing in, but the intriguing title of this installment is from John's life. He mentions that the house he lives in didn't have electricity a human lifetime ago, then trots out the fun fact that a 100-year-old German gardener passed away within its walls. The brothers tackle questions about liquid planets (are there any?), tuberculosis (romantic disease, or just tragic?), the consumption of rocks besides salt, and the quirk — rubbing one's legs together under the covers like a cricket — one listener writes in about. They also offer practical advice on attire for an orchestral Ratatouille event and how to keep one's birthday a secret. Throughout the episode, Hank and John play great off each other with a lot of humor and just enough intellectual braggadocio to showcase their combined ability to navigate the vast and varied terrain of human experience. — Marc Hershon
Listen: Spotify | Apple | Website
Got a comedy podcast recommendation? Drop us a line at comedypodcasts@vulture.com.