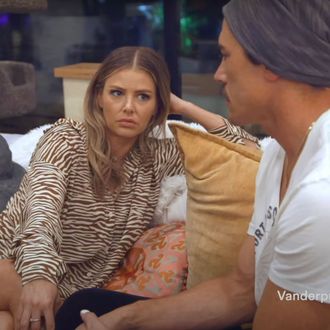 It hasn't been a typical season of Vanderpump Rules, so why would there be a typical midseason trailer? It was already a return-to-form season as the divorce between Katie Maloney and Tom Schwartz played out, but that was completely upended when the seven-month Tom Sandoval–Raquel Leviss affair became public, along with Sandoval's messy split from his soulmate and No. 1 girl in the group, Ariana Madix.
As a result, the trailer looks less Bravo, more prestige drama. Think Game of Thrones or Succession if they lived in WeHo. And much as with Game of Thrones, the trailer presents as many questions as it does answers.
First of all: What, exactly, are we watching here? After the Scandoval broke, Bravo made the unprecedented decision to pick up the cameras for two weeks of filming after the season wrapped. Production didn't reedit episodes that were already "locked," including the last two and at least the next several, but episodes closer to the end of the season will probably be totally redone to showcase the new story lines we're going to get and to set up the two weeks we get of the aftermath. Let's just pray to our Dark Lord and Savior Andy Cohen that this midseason trailer isn't exactly at the midpoint, making this season only 14 episodes.
The timely question in watching this footage, as emphasized by the ticking clock in the background, is clearly what is B.S. (before Scandoval) and what is A.S. (after Scandoval). Everything with Schwartz and Raquel kissing and pretending to date has to be B.S. because I doubt Schwartz would continue with this ruse once he knew what Sandoval was up to. Same with Scheana saying Raquel is the home-wrecker of the group because she was clearly only joking about Raquel and Schwartz rather than, you know, allegedly assaulting Raquel 'cause she was screwing over Ariana. I would also say that Katie saying "I want to light them both on fire" isn't about Sandoval and Raquel, but rather about Schwartz and Raquel. Lala and Ally talking on a boat is definitely B.S., as is James Kennedy talking about someone (I assume Schwartz) wanting to "fuck Raquel."
Speaking of Schwartz, his worrying about Katie and Ariana opening their sandwich shop, while sitting on the same couch on which he talked about open relationships, seems it would have to be B.S. too, considering Schwartz & Sandy's was open well in advance of There's Something About Her Sandwiches. Given the rumor that Raquel has filmed only one scene since the cameras have been up, I will assume that her saying "I'm not ashamed of our relationship" is about her and Schwartz and thus happened B.S.
There's a bunch of other mysterious stuff, like who is that little dweeby guy Katie is talking to at a party and then hanging out with later? Who is the dude naked Ariana is playing with in the pool? When Lala says someone spotted two people at the Abbey, is that Tom and Raquel, or Tom and Raquel? Ugh! Why can't there just be more names on this show?
So what is A.S.? Everything with Scheana being teary in a bucket hat? Definitely A.S. Ariana freaking out on Tom in their shared Valley Village home? Definitely A.S. Tom and Ariana talking about their meager sex life? I would hope that was B.S., but it seems like A.S. to me. Then there's the kicker: Ariana saying in the very last seconds that she wants Sandoval dead. Ohh, it doesn't get more A.S. than this, honey. And the way Ariana delivers that line? Damn. It's official: This season of Vanderpump Rules is TV's new prestige drama.