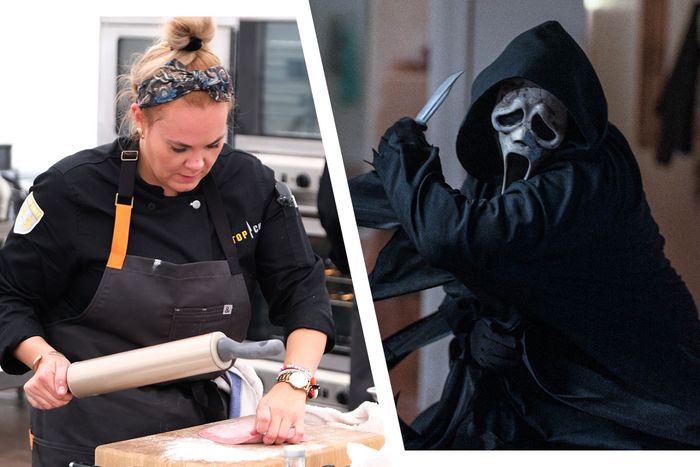 Top Chef: World All Stars
;
Scream VI
.
Photo-Illustration: Vulture. Photos: Bravo; Paramount Pictures
You may notice a few (or 20) more entries this week than in "What to Watch" columns from the past. That's no anomaly. Going forward, our aim with the column is to be as expansive as possible: It will include the biggest TV and movie releases of the week, naturally, plus exciting niche and genre titles, tips about classics leaving streaming, new videos from YouTube creators, and a roundup of the trailers, music videos, viral shorts, and late-night clips worth checking out. If it can be watched, you'll find it here.
Orrr! If you prefer, you can find it in the form of our newly launched newsletter, Streamliner, which will contain all of the same information, just delivered to your email every Friday afternoon. You can sign up for it below:
And in keeping with that Streamliner spirit, we've relaunched our streaming hub: It now has better organization and includes more services and entries, so you can browse and queue to your heart's content. Check it out.
Now, back to what you should watch this week, which includes the Oscars, a new Lucy Dacus music video, and a couple appearances by Pedro Pascal.
Featured Presentations
1.

The 95th Academy Awards
Will the Oscars actually be good this year? It's possible! After a few pandemic-hampered years, there are a number of great — and perhaps more importantly, popular — movies nominated for awards. Tune in on Sunday to see if Everything Everywhere All at Once will continue its awards-season dominance, or if Tár, Banshees of Inisherin, All Quiet on the Western Front, or even Top Gun: Maverick can swoop in and shoot down EEAAO at the last minute, Hangman style. —James Grebey
➽ Good news: Rihanna's performing at the Oscars! Bad news: She's only playing the Wakanda Forever song.
2.

Scream VI
The Ghostface Killer(s) have largely kept their reigns of terror to within Woodsboro town limits, but in Scream VI, they're taking a stab at the Big Apple. Scream VI, which brings back Melissa Barrera and Wednesday star Jenna Ortega after they successfully survived Ghostface in last year's film, offers a new setting for the iconic slasher franchise. Courteney Cox's Gale Weathers joins them in New York City, as does Scream 4's Hayden Panettiere. —J.G.
3.

The Last of Us Season Finale
Not to gas up HBO, but give credit where it's due, they've been on a roll these past Sundays. For nine weeks, The Last of Us has been top of mind for TV watchers of all stripes. HBO is so confident in the show, they're letting the finale compete against the Oscars. So, time for one last ride (well, before season two …) as Joel and Ellie (fiercely played by Pascal and Bella Ramsey, respectively) finally reach the Fireflies. I, for one, can't wait to see what emotional destruction Neil Druckmann (TLOU game creator) and showrunner Craig Mazin have prepared for us. —Savannah Salazar
4.

You Season 4 Part Two
I love You, but I'll admit part one had me feeling a little iffy. It's hard for these Londoners to compare to the fun, rich-bitch aura of Peach Salinger. But the way part two ties the season together after reintroducing Ed Speleers's Rhys Montrose is just so exhilarating as the real twists and turns reveal themselves to Joe Goldberg (Penn Badgley). —S.S.
➽ At last, we un-redacted our interview with You showrunner Sara Gamble.
5.

Perry Mason Season Two
The first season of HBO's reimagining of the classic Raymond Burr legal procedural Perry Mason had its moments, but it was hampered by the fact that Matthew Rhys's take on the titular character — perhaps the most iconic defense attorney short of Atticus Finch … wasn't actually a defense attorney until the end of the season. The sophomore season, which premiered on Monday, is much more sure of itself and very much worth your time. —J.G.
Reality Bites
Top Chef: World All-Stars
The most storied cook-off series is bringing together a group of international winners and competitors to battle their American counterparts. The "World All-Stars" represent various regions, and the entire season is filmed in London and Paris. Will that benefit chefs trained in European techniques? Probably. —Roxana Hadadi
Genre Corner
65
Okay, there's a very good chance that 65 will veer into terrible-movie territory. Then again, there is absolutely no way I could forgo a chance to watch a schlocky movie about confirmed sneakerhead Adam Driver fighting dinosaurs in space. It's like the writers catered exclusively to boomer dads and zillennial women. So, yes, I will be seated for the spectacle. —S.S.
➽ Who'd fare best against a T. rex: Adam from Girls, Kylo Ren, or Driver's wall-punching Marriage Story character?
Grand Finale
Poker Face 
No bullshit, Rian Johnson's Columbo-inspired series is ready to head off into the sunset — though no worries, season two is a go. Directed by Zola's Janicza Bravo, the Poker Face finale has Charlie (Natasha Lyonne) still on the run as Cliff (played by Benjamin Bratt) is hot on her tail. Johnson's venture into television has been such a damn delight. If you need to catch up, now's the time. —S.S.
Triple Feature
"Turn Down for What"
Many directors got their start in music videos. But, just as there's never been a Best Picture frontrunner like Everything Everywhere All at Once — which you should watch this weekend if you haven't already — there's never been anything quite like the video the Daniels made for DJ Snake and Lil Jon's "Turn Down for What" (which starred Daniel Kwan, with Sunita Mani). Ahead of the Oscars, revisit the video to deepen your appreciation of the directing duo's unmistakable style. (Or just to laugh.) —J.G.
Swiss Army Man
Then watch the Daniels' first feature-length movie, about Harry Potter's farting corpse. You know, normal Best Picture–winning filmography stuff.
Coming Attractions
Yellowjackets Season Two
Who better to score the trailer for the second season of Showtime's girl-power cannibalism mystery Yellowjackets than Florence + the Machine, who covered No Doubt's "Just a Girl" for the promo? It's enough to leave you, er, hungry for more ahead of the show's March 24 premiere. —J.G.
Teenage Mutant Ninja Turtles: Mutant Mayhem
A TMNT that has a cool Spider-Verse–inspired aesthetic instead of some of the most horrifying CGI creations I've ever seen? Cowabunga! —J.G.
➽ Here's the final trailer for The Super Mario Bros. Movie, which is still being coy about revealing Chris Pratt's Italian/Prattian amalgam of a voice.
Web Ephemera
Pedro Pascal on Hot Ones
It's been a big week few months for Pedro Pascal. He's leading two shows on HBO and Disney+ and will present at this Sunday's Oscars. But c'mon, what we've really been waiting for was the inevitable Hot Ones sit-down.—S.S.
➽ But seriously though … why not eat the fungus?
Lucy Dacus's "Night Shift" music vid
Five years ago, musician (and one-third of boygenius) Lucy Dacus released "Night Shift," a cathartic break-up song where she croons, "In five years I hope the songs feel like covers / Dedicated to new lovers." So, naturally, five years later, Dacus drops a whimsical Halloween-themed music video, directed by Jane Schoenbrun (We're All Going to the World's Fair) and co-starring Yellowjackets star Jasmin Savoy Brown. A mastermind, truly.—S.S.
"The Deceptive World of Ghost Kitchens"
Where in the Academy Award rulebook does it say that only theatrically released movies, not YouTube videos, can be nominated for Best Documentary Feature? [Reads rules.] Oh, right there, ok. Regardless, this video from YouTube streamer Eddy Burback about the widespread practice of big chain restaurants opening "ghost kitchens" to trick people into ordering delivery from them is the best documentary I saw this year. —J.G.
➽ This week on TikTok: the Kardashians and the Presleys, Ice Biden is a liar, and no new Barbie trailer (booo), but how about the Real Barbies of Bravo? 
➽ Miley Cyrus has a music video for you to feel like you're at the club without having to be at the club, and TWICE take you for a ride across movie sets and CGI planets.
Want more? Read our recommendations from the weekend of March 3.