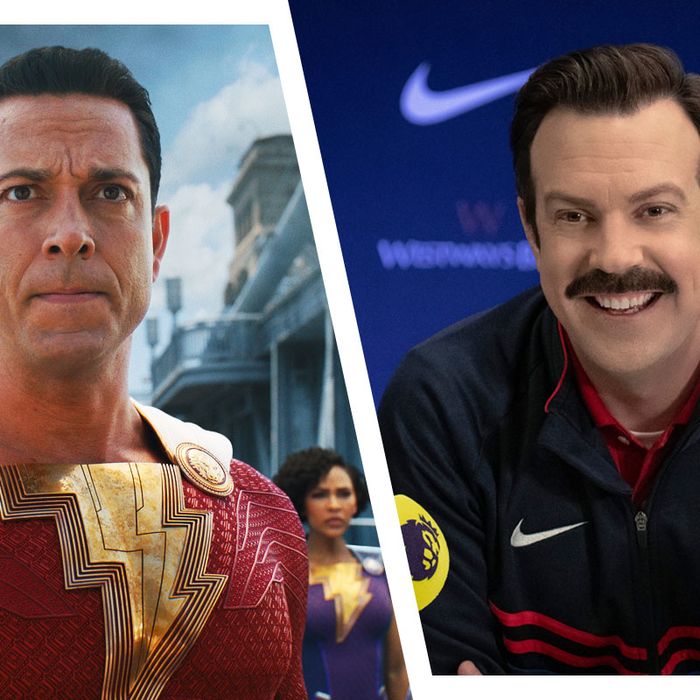 Men.
Photo-Illustration: Vulture. Photos: Warner Bros.; Apple TV+
Welcome to Streamliner, Vulture's weekly roundup of the best movies, TV shows, documentaries, trailers, TikToks, and, in this installment, one dead-on parody of those occasionally insightful and always pretentious "actor roundtables." There's a lot of good stuff to watch this weekend, including a superhero movie that doesn't have multiversal stakes, the sophomore season of a hit YA series, and the return of AFC Richmond. If none of those are your cup of tea, never fear — we've got plenty more options. —James Grebey
Featured Presentations
1.

All the Beauty and the Bloodshed
Although director Laura Poitras's film, a former Best Documentary front-runner, didn't manage to nab an Oscar, All the Beauty and the Bloodshed still is a captivating and uneasy watch. Thankfully, it is finally available to stream this weekend, giving viewers a look into photographer and activist Nan Goldin's fight against the Sackler family and the ongoing opioid crisis. —Savannah Salazar
2.

Shazam! Fury of the Gods
The first Shazam! was a bit of a delight — a DC movie that wasn't dark and edgy. The sequel is going to be one of the last DC movies of this era before the whole franchise gets rebooted (in part so that everything will be less dark and less edgy). Check it out for some super-powered Big shenanigans and a chance to see Zachary Levi face off against a trio of villains called the the Daughters of Atlas. —J.G.
➽ The hierarchy of power in the DC Universe remains unchanged.
3.

Boston Strangler
Director Matt Ruskin's drama is exactly what you think it is: David Fincher lite. Based on the true story of a string of murders of women in Massachusetts, the film stars Keira Knightley as the green reporter who initially broke the story, Loretta McLaughlin, along with a fellow reporter (played by Carrie Coon). Boston Strangler doesn't quite possess the tight and taut storytelling of Fincher's Zodiac, but seeing Knightley determinedly run around with a pen and notepad makes for a good night in. —S.S.
4.

Swarm
Created by Donald Glover and Janine Nabers, this dark series (mystery? Thriller? Parable? Horror? Unclear!) is about intense online fandom and the lines between obsession and love, reality and fantasy, violence and … okay, that one's just violence. With Dominique Fishback — always a good sign. —Kathryn VanArendonk
5.

Ted Lasso Season 3
The third season of Ted Lasso begins with AFC Richmond quite possibly in last place and its rival team being coached by the more ruthless iteration of Nate Shelley (Nick Mohammed). Will Ted's folksy optimism and commitment to biscuit-making somehow help Richmond win, even if only in a metaphorical sense? Probably. —Jen Chaney
➽ If you need a refresher (because it's been a thousand years since season two), Nate broke bad — like, real bad.
Reality Bites
Monster Factory
Ted Lasso isn't the only feel-good Apple TV+ sports-related show premiering this week. Monster Factory is a documentary series about a wrestling-instruction school and the misfits who are there to learn the ropes — specifically, to learn how to bounce off the ropes and demolish their opponents. You will come to love these crazy kids who could suplex the bejeezus out of you. —J.G.
Genre Corner
Shadow and Bone Season 2
This streaming adaptation of the YA novels by Leigh Bardugo seems intimidating, given the books; extensive world-building, fictional languages, and complicated rules about magic and destiny. One teen to save them all, yadda yadda yadda. But in this fantasy series' first season, creator Eric Heisserer smartly countered a somewhat predictable narrative with impressive aesthetics that include lush production design and detailed visual effects. And any show that commits to a character named "the Darkling" knows that what fantasy fans are looking for above all else is audacity. —Roxana Hadadi
Grand Finale
Servant Season 4
It's been kind of forgotten, which is a shame, but M. Night's been doing more than just knocking at cabin doors. His Apple TV+ series Servant is coming to an end after four seasons of eerie twists and turns and some of the most interesting cinematography you'll see on TV. —J.G.
➽ Big couple of weeks for Servant star Lauren Ambrose, who will also make her debut as Adult Van in the new season of Yellowjackets next week.
Double Feature
Zodiac
You know how we said above that Boston Stranger doesn't exactly have the tight and taut storytelling of Zodiac? Well, that's why it's never a bad idea to revisit Fincher's 2007 film — which is as thrilling and chilling as ever. —J.G.
TV Graveyard
Willow
Another Lucasfilm project bites the dust. I can't tell if this one hurts more or less since it was one of the few projects [stares at whatever happened to Patty Jenkins's Rogue Squadron] that actually made it out into the world. Willow was always a curious choice at a reboot, and I'll admit I never totally dedicated enough time to watch through all of it (am I the problem? Nah), but damn, Erin Kellyman (of Solo, The Falcon and the Winter Soldier, and now Willow) needs to move on from Lucasfilm and Disney+ projects at this point. Quit doing her wrong! —S.S.
➽ Lol, remember when the Game of Thrones guys were supposed to make a Star War?
Coming Soon
The Little Mermaid
"Look how they massacred my boy," said Vito Corleone upon seeing his son's body, and also me upon seeing the "live action" Sebastian in The Little Mermaid remake. —J.G.
➽ Another trailer worth checking out is for Blackberry, led by a menacingly hilarious Glenn Howerton.
Web Ephemera
Anything With Lance Reddick, R.I.P.
Lance Reddick, the brilliant character actor and consummate gentleman, died Friday. Most of us were introduced to him through roles like The Wire, Fringe, Bosch, Lost, and John Wick, where he memorably played relatively serious characters — leaders perpetually exasperated by institutional bullshit or shadowy agents enmeshed in secretive conspiracies. As we wrote in 2021: "Reddick's typical speaking voice is beautiful, and he's able to shade in an almost gravelly roughness when he wants to really emphasize his power." By leveraging that power, he leaves a legacy of perfectly calibrated dramatic performances. But anyone who paid close attention knew those roles weren't the limits of what he could offer. In the last decade, Reddick was having so much fun with his reputation for playing steely, demanding authority figures — something he showed us with a yearslong online presence, bits like this one from The Eric Andre Show, and the clip above from Corporate. In this role playing the imperious CEO Christian DeVille, he mined his reputation for unflappable authoritarian characters for comedy. Because of how much he relishes the opportunity, it comes through beautifully: As DeVille, you can practically feel the steam come out of his ears as he blows his stack. Reddick committed to the bit, every time. —Eric Vilas-Boas
Interviewing Every Person at Shrek Rave
What level of irony are we all at vis-à-vis Shrek? —J.G.
A Riff on the Roundtable
This should be to real actor roundtables what Walk Hard was to musical biopics: fatal. —J.G.
Pedro Pascal in a Terrible Game Ad
The Last of Us is a blockbuster video game with elaborate gameplay, a nuanced story, and heavy themes, and it was adapted into a prestige drama for HBO. Merge Mansion is a mobile game with fairly basic gameplay and some wild ads. Pedro Pascal is a part of both. Truly, he is the gamers' actor. —J.G.
➽ Speaking of Pedro, again, he reveals the first five Spanish words he'd teach Grogu (which do include the word "papi").
Bizarrap and Shakira on The Tonight Show
Okay, technically Shakira performed on Fallon's show last Friday, but it feels wrong not to include this absolute banger of a performance. If you haven't already seen Shakira and Bizarrap on The Tonight Show, watch it. If you have already seen it, watch it again. You can practically feel Studio 6B shake as the audience rages beside Shakira and her barbed breakup bop. —S.S.
➽ Feel free to check out Cardi B's BTS bias next.
This Week on TikTok
Everything Everywhere All at Once's Harry Shum Jr. trades in carrying Raccacoonie for James Hong, an acoustic (?) cover of Taylor Swift ahead of her Eras Tour, Lindsay Lohan is pregnant (!), and how to make your Roku TVs into a cowboy, baby.
Want more? Read our recommendations from the weekend of March 10.