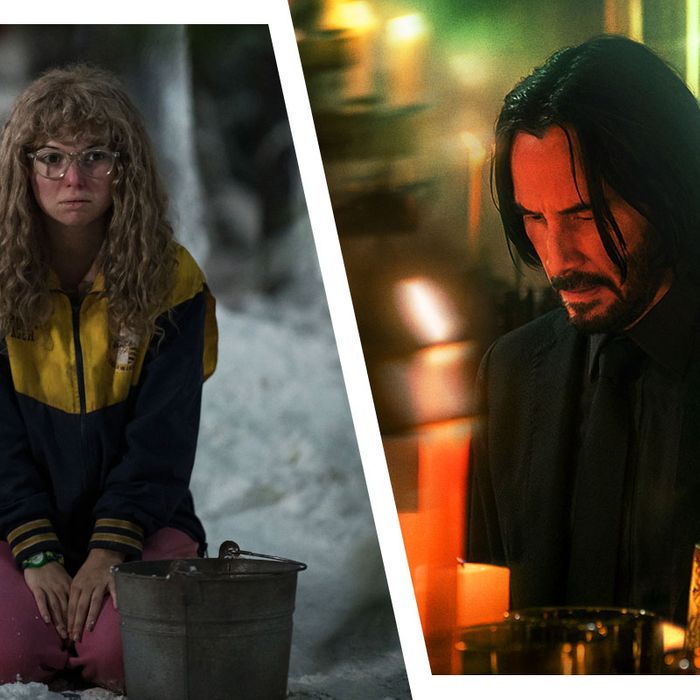 Yellowjackets
and
John Wick: Chapter 4
, full of grace.
Photo-Illustration: Vulture. Photos: Showtime; Lionsgate
When was the last time you heard an auteur Coppola's TikTok masterpiece mentioned in the same breath as a new Zach Braff movie? It's an uncommonly stuffed weekend for fun things to watch, from TV to freshly dropped music videos to new features. And speaking of new features, I spent the last week at South by Southwest screening lots of titles I can't wait to recommend to you all year long. One film to go see extremely soon (now) is the latest starring Keanu Reeves's excommunicado assassin John Wick, which flat-out rules. On television, the next couple days deliver the season premieres of two wickedly good shows, one with cannibal teenage girls and another with adults who act like teenagers who metaphorically eat each other alive. Dig in. —Savannah Salazar
Featured Presentations
.

Succession season 4
The creator, showrunner, and writer Jesse Armstrong has confirmed that Succession will be going out on top — a power move Logan Roy would approve of. But will the show's patriarch actually bequeath his company to one of his children in this final season? That still feels as unlikely as anyone surviving a game of Boar on the Floor unscathed. —Roxana Hadadi
➽ What more do you want? Us to press play for you? Fuck off! 
.

Yellowjackets season 2
That premium-channel show you love about the girls' soccer team that (possibly) turns to cannibalism after a plane crash is back with more '90s needle drops, more creepy plot twists, and more of Christina Ricci as TV's most twisted citizen detective. Hooray! —Jen Chaney
➽ Bone appétit!
.

John Wick: Chapter 4
To director Chad Stahelski: Hey, queen! You've done it again, raising the bar once more with your latest installment of this action series. Now, to all of you, John Wick: Chapter 4 kicks ass, simply put. Is it a smidge too long? Maybe, but you'll be so enraptured by all the pitch-perfect stunt sequences that it doesn't matter much. This was one of the screenings I saw over at SXSW, and the crowd went wild. Sure, that tends to happen at festivals, but I imagine that kinetic energy will make it to any other packed theater. —S.S.
.

Love Is Blind season 4
This season of Love Is Blind is at the top of its game. The cast has a perfect mix of personalities: some game for love, some confused about love, and a dash of some who just attract drama and messiness. Netflix's dropping five episodes this week as these Seattle singles look for partners in the pods — the separate rooms where they can talk to each other without actually seeing each other. Very sci-fi, I know. First comes pods, then comes constant mind games and marriage! —S.S.
➽ We're shocked one of the contestants, Paul, failed to mention in the pods that he's quite the (TikTok) chef.
.

A Good Person
Zach Braff is back with a new movie that trades Garden State's twee journey of self-rediscovery for an opioid-addiction melodrama. A Good Person takes place in the wake of a tragic car accident that kills two people and just about ruins the lives of everybody involved. Some of its tonal swings don't, uh, work, but Florence Pugh makes it all worthwhile: an okay movie, a great performance. —James Grebey
➽ Say what you will about Garden State, but the soundtrack slaps — or whatever the twee-indie version of "slaps" is.
Grand Finale
Daisy Jones & the Six
Well, look at us now; it's been a fun ride with Daisy Jones & the Six. The dramatized (and fictional) oral history of the most popular band of the '70s that's not Fleetwood Mac ends with their last ever gig together. What did them in: the arduous touring, the fact that they could rarely agree on things, infidelity? Whatever happens to the band, I'm just glad Warren Rojas is continuing to live his best life. —S.S.
➽ Actually, the bigger question is will Big Daddy Amazon finally get Sam Claflin, Riley Keough, and the rest of the Six to go on tour?
English Lit 101
Great Expectations (or The Muppet Christmas Carol)
The best Charles Dickens adaptation is, without question, The Muppet Christmas Carol, but if you can't get Kermit the Frog and Miss Piggy, Olivia Colman and What We Do in the Shadows' Matt Berry are fine, fine runners-up for this BBC take on Great Expectations that will air on FX on Hulu. —J.G.
Double Feature
Almost Famous
Loving Daisy Jones? How about you pay respects to Penny Lane (played effervescently by Kate Hudson), the Band-Aide who guides a young William Miller (Patrick Fugit) through the world of '70s rock and roll. —S.S.
➽ To top this off, how about listening to the sound of the woman who loves you (a.k.a. one of Fleetwood Mac's most searing performances)?
Coming Soon
Joy Ride
Hot off of Everything Everywhere All at Once's Best Picture win, Stephanie Hsu came to SXSW to promote her new movie (along with co-stars Ashley Park, Sherry Cola, and Sabrina Wu). Just as the trailer demonstrates, Joy Ride is jaw-droppingly hilarious. Mark your calendars for July 7. —S.S.
➽ Plus, Elizabeth Olsen takes a break from the Marvel machine for Love & Death. Thank God.
Web Ephemera
Felicidades a Rosalía y Rauw Alejandro
These two just really one upped every Facebook/Instagram proposal announcement by making a whole music video. –S.S.
Professor Trixie Mattel's Master Class on Barbie
If you are not already aware of Trixie Mattel (sad), you should know that she's not only a RuPaul's Drag Race winner, a musician, and an entrepreneur extraordinaire (what else do you expect from a Virgo?), but most of all, she's incredibly knowledgable about and loves dolls, specifically Barbie. She's confirmed she's not in Greta Gerwig's upcoming film (double sad!), but that doesn't mean she isn't still giving the people what we need in this 20-minute Mattel download. She's an educator! —S.S.
A Waffle House Deep Dive
You all know of the great Waffle House fight: the one where the employee parries a chair midair with Avengers-style agility. It's obviously not the only fight to break out in the breakfast chain. It has, as Gabi Belle's video suggests, a fractious history. Saturday Night Live even parodied the chaotic restaurant recently with Jenna Ortega. For a Waffle House triple feature, you can also check out Jacob Cruikshank's first time there. —S.S.
2 Chainz and Hit-Boy Play Vintage Funk Instruments
I strive to approach all new experiences with the bemused skepticism of 2 Chainz as he learns how a theremin works. —J.G.
This Week on TikTok
Sofia Coppola and Thomas Mars's daughter attempts to make vodka pasta sauce, American Girl dolls are Ron DeSantis's nightmare, Jasper the Doll voices Grogu's thoughts for him, and Ayo Edebiri recounts her time as Jenny the Donkey in Ireland. (Colin Farrell is shaking.)
Want more? Read our recommendations from the weekend of March 17.