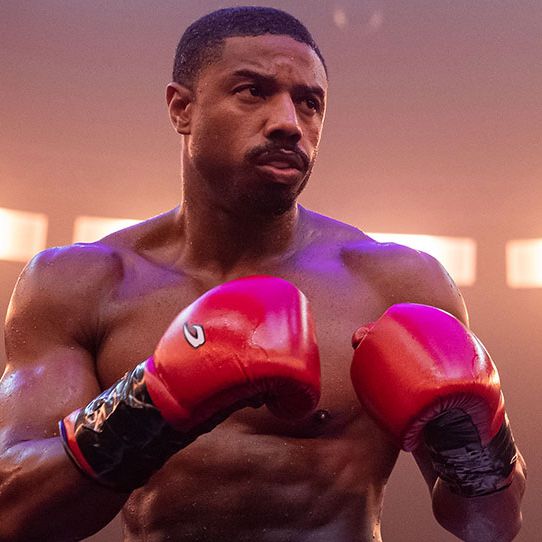 Daisy Jones & The Six
;
Creed III
Photo: Amazon Studios, MGM
This week's picks are for those of us obsessed with the actor darlings of 2023. First, you have the continued movie-theater dominance of Jonathan Majors as he proceeds from duking it out with People's 2021 Sexiest Man Alive in Quantumania to duking it out with People's 2020 Sexiest Man Alive in Creed III. Then there's the return of the internet's current crush, Pedro Pascal — sort of — and little baby Grogu in the season premiere of The Mandalorian. To top it off, Michelle Yeoh gets a whole campaign over at the Criterion Channel as eight of her movies land on the streamer just in time for the Oscars on March 12. More on those titles and the rest of this week's must-watches below. — Savannah Salazar
Creed III
There was some concern when Rocky fans first heard that Creed was stepping into the ring a third time. The third entry in a spin-off series? Without Ryan Coogler or Rocky himself, Sylvester Stallone? Michael B. Jordan's directorial debut? Silly us — we should've known better than to count out an underdog in this of all franchises. Creed III, which pits Adonis Creed against a foe from his past (played by Jonathan Majors), packs a serious punch. That Jordan's self-proclaimed love of anime is a clear influence on the film makes it all the better. — James Grebey
Crouching Tiger, Hidden Dragon (and more Michelle Yeoh films)
Who could have known a year ago that a movie with fanny-pack fights, rock-to-rock chats, a floating bagel, and butt plugs could launch Michelle Yeoh into leading the Best Actress race — and that the film in general would become an exciting Best Picture front-runner? If Yeoh's performance in Everything Everywhere All at Once has you searching for more Yeoh, the Criterion Channel just added eight films including Crouching Tiger, Hidden Dragon, one of Ang Lee's most lauded directing efforts. Don't skip some of her earlier works like Yes, Madam! and Royal Warriors, either. — S.S.
Operation Fortune
Guy Ritchie's latest, in which Jason Statham leads a team of spies and thieves determined to undermine an arms dealer played by Hugh Grant, is a funny, fleet-of-foot heist movie — exactly the kind of film Ritchie should be making. — Bilge Ebiri
Chris Rock: Selective Outrage
Chris Rock headlines Netflix's first live comedy special, complete with a a pre- and after-show featuring appearances from David Spade, Amy Schumer, Cedric the Entertainer, and Kevin Hart. There aren't too many details about how the special will go, but it is the first one since his last Netflix special in 2018 and his first largely televised appearance since the 2022 Oscars. Rock will go on at 10 p.m. ET, and the pre-show will start 30 minutes beforehand. — S.S.
Alaska Daily
It's rare these days for a network series to distinguish itself from the pack, but there's something endearing about this news-reporting drama, which returns for the back half of its first season. Although it began with Hilary Swank playing a big-city hotshot disgruntled about taking a job in Anchorage, it has become a warm ensemble celebration of shoe-leather local journalism. — Kathryn VanArendonk
Daisy Jones & The Six
When it comes to Daisy Jones & The Six, it's not not based on Fleetwood Mac. Milking all the melodrama of the rock-and-roll scene in the '70s, this new Prime Video series — based on Taylor Jenkins Reid's novel — follows Billy Dunne (Sam Claflin), the front man of a band called the Six, as he crosses paths with firecracker songwriter Daisy Jones (Riley Keough). What follows is a juicy and fizzy faux–oral history on the meteoric rise and fall of this fictional band during the recording of their album Aurora. — S.S.
The Mandalorian season 3
The internet's favorite space papi and Baby Yoda Grogu set course for another season of their show (not The Book of Boba Fett). Now that Luke Skywalker's force training and subpar babysitting duties (don't yell at me, I'm right!) are over with, Din Djarin and Grogu deal with the fallout of Din getting the Darksaber over Bo Katan as well as Din being exiled from his own Mando clan. Jon Favreau basically said, "You want Mandalorian lore, we'll give you all the Mandalore!" — S.S.
Read our streaming recommendations from the weekend of February 24. Vulture's next list of weekend-streaming picks goes online Friday, March 10.