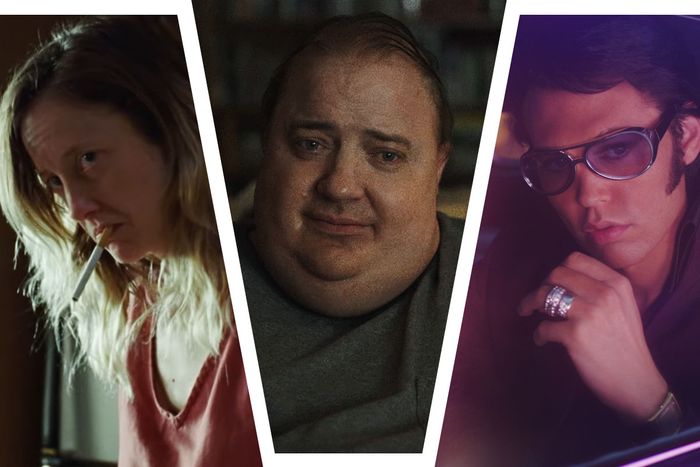 Andrea Riseborough in
To Leslie
, Brendan Fraser in
The Whale
, and Austin Butler in
Elvis
.
Photo-Illustration: Vulture. Photos: Momentum Pictures; A24; Warner Bros.
There's one hallowed awards-season tradition I treasure above all others. It's not discovering which European auteur will sneak into the Best Director race or which elderly British man Sony Pictures Classics will power to a lifetime-achievement nom. For me, nothing compares to the excitement of learning which bright-eyed contender will emerge from the awards race as our official Oscar villain. A movie goes into Telluride with dreams of gold statuettes dancing in its head; by January, it's the subject of fierce debates over whether it's "fascist" or merely "anti-anti-fascist."
Choosing an Oscar villain takes commitment. As Bobby Finger wrote in 2018, it's the art of "picking a least favorite movie and dumping on it so hard for five long months … perceiving the movie not only as a piece of utter shit, but as my sworn enemy." Tastes being what they are, everyone's Oscar villain might be different. If you're from Ireland, your Oscar villain may be The Banshees of Inisherin for deploying "the hoariest Irish stereotypes." If you're Richard Brody, it's Tár, "a regressive film" that "lampoons so-called identity politics." If you're one of a surprisingly large number of film critics, it's All Quiet on the Western Front, which David Ehrlich dubs "Come and C/C+."
But when we talk about Oscar villainy, we're usually talking about consensus villains, the films it becomes the duty of every right-thinking person on the internet to root against. Past Oscar villains displayed a conservative subtext, handled hot-button issues in a ham-fisted way, or were made by someone accused of terrible misdeeds. Or maybe they simply had the bad luck to get caught in a psychological restaging of a contentious presidential election. The unpredictability is part of the fun!
As this website's most dedicated chronicler of Oscar villainy, I have identified three qualified candidates in the class of 2023. Together, they form a case study in the myriad ways a film can become an Oscar villain. One was the preseason favorite that stumbled down the stretch. One is positively vintage, a classic of the form. And one has innovated a totally new method of villainy that will be studied for years to come. None of them are Top Gun: Maverick, which is sad news for right-wingers hoping to sing their favorite tune, "Liberals Are Out of Touch With the Common Man (And I'm Not)."
The Whale
Months ago, no film seemed more likely to become the season's villain than The Whale. When Darren Aronofsky's film received a six-minute standing ovation at the Venice Film Festival, star Brendan Fraser shot to the top of the Best Actor rankings for his performance as a 600-pound shut-in. At the same time, the film carried an in-built source of potential controversy over its handling of the main character's obesity, which journalists on the festival circuit were often overheard calling "ghastly" and "maybe a hate crime." (Full disclosure: That last one was me.)
For those of us in the negative camp, the gap between the way the film was described and what is actually onscreen is enough to make your head spin; imagine a Coney Island freak show that kept insisting it was actually an inspirational tribute to women's ability to persevere no matter how big their beards were. In Vanity Fair, Richard Lawson slammed the "leering horror" of Aronofsky's gaze, "a portrait of a man gone to catastrophic ruin so that we, in the audience, may tap into our nobler, higher minds and see the worthy human being beneath the frightful exterior." It wasn't just snobby critics who disliked it either. Speaking to The New Yorker, comedian Guy Branum called the film "a weird attempt to use the existence of someone like me to make people who aren't like me feel better about how they're not like me."
As the season went on, A24 attempted to forestall a backlash by hiding The Whale, cutting around Fraser's appearance in the trailers and holding the film's release until the final weeks of the season. The plan worked, sort of — though reviews were mixed, the film performed decently at the box office. However, The Whale never became the undeniable Oscar player it might have seemed in September. Brendan Fraser's presumptive lead in the Best Actor race dwindled as Colin Farrell took the lion's share of critics' prizes and Austin Butler edged him out at the Golden Globes. (Fraser, who has accused the former head of the Hollywood Foreign Press Association of groping him, was boycotting the ceremony in protest.) The Canadian could still win the Oscar, but with his candidacy providing less ballast than anticipated, the film's fortunes floundered. The Whale ultimately earned nominations for supporting actress Hong Chau and its makeup, but it missed out on a Best Picture berth as well as the Adapted Screenplay nod it had been pegged for. Can you really be the Oscar villain if even the Academy thinks you're not very good?
Elvis
As The Whale faded, a good old-fashioned Oscar villain emerged in its stead. Baz Luhrmann's Elvis was not automatically exalted as a potential Oscar player upon its debut at Cannes. (Tellingly, Warner Bros. did not mount much of a campaign for Tom Hanks as supporting actor.) Pundits saw potential in its costumes and production design, but Austin Butler was thought to lack the seasoning voters preferred in their Best Actor contenders, and the film was considered too gaudy to compete in the other big categories. Box-office success earned Elvis some preseason traction, but its place was always provisional. Once the real Oscar movies came out, Luhrmann's film was surely going to fall off.
Except ostensible contenders like Glass Onion and Babylon caused less conversation than anticipated, while Elvis kept showing up. In retrospect, this should not have been surprising: Although the film is less, well, "good" than most of its fellow nominees, it undoubtedly bears Luhrmann's own particular stamp of artistry. It's hard to avoid comparisons to Bohemian Rhapsody, the film that proved there was room in the Oscar race for glitzy films celebrating the life and legacy of boomer icons — though that comparison flatters Elvis, which looks like Jeanne Dielman next to the Queen biopic. But it's the ghost of another 2018 villain, Green Book, that lends Elvis its Oscar-villain cred. The film takes pains to combat the perception that the real Elvis stole or exploited Black music, pitching him as an honest appreciator of rhythm and blues; the further he gets from that sound, the more he loses his soul. This sunny vision of rock history has not worked for everyone. As Sean Fennessey carped on a recent episode of The Big Picture, "The racial politics of the movie are fucking idiotic."
So why hasn't the sizable backlash that greeted Green Book and Bohemian Rhapsody struck Elvis? It could be a matter of timing. The film had already been out for half a year before it became a bona fide awards player. By the time anti-Elvis forces realized what they were dealing with, it was already a Best Picture nominee. You can also credit Butler: While it's easy to make fun of the voice, there is a buzz around his performance that's hard to deny. (The film's two likeliest wins, Actor and Costume Design, are its two least-garish elements.) But it's also because, at a time when the Elvis takedowns would have been flying, the think-piecers of the world had something else on their minds — a small film with a giant heart by the name of To Leslie.
Andrea Riseborough
Director Michael Morris's kitchen-sink drama about an alcoholic lottery winner was almost entirely unheard of prior to January, when stars such as Edward Norton and Gwyneth Paltrow began gushing about the performance of its lead, Andrea Riseborough. Soon boldfaced names from the A-list down to the D-list were following in their footsteps, many of them using suspiciously similar language. What was happening? As was later revealed, Riseborough's manager, Jason Weinberg, and actress Mary McCormack, Morris's wife, had taken it upon themselves to personally bug members of the Academy's acting branch to post in support of her bid. Astoundingly, it worked: On nomination morning, the English actress cracked the Oscar lineup.
Unfortunately, she'd made it in over The Woman King's Viola Davis and Till's Danielle Deadwyler, two Black actresses whom many assumed were locks. Although Blonde's Ana de Armas had also been nominated against expectations, it was Riseborough who became the face of the awards circuit's bias against Black actresses. In the aftermath, Woman King director Gina Prince-Bythewood spoke about the difficulties she faced getting Academy members to consider her film in contrast to the fervor a largely white group of celebrities had created around the To Leslie campaign: "There is no groundswell from privileged people with enormous social capital to get behind Black women."
Amid the uproar, the Academy announced, without naming names, that it was investigating the To Leslie campaign. (At issue was whether the film violated bylaws against lobbying individual members and hosting promotional events without a screening attached.) To the pro-Leslie camp, the investigation was the Academy's way of deflecting blame for the Davis and Deadwyler snubs; to the anti-Leslie camp, the film was using its underdog status as an excuse for not playing by the same rules as everyone else. In the end, the Academy uncovered tactics that "raised concern" but did not rescind Riseborough's nomination.
There's a hint of tragic irony here: The movie's team launched the campaign because it wanted To Leslie not to be forgotten, and now it never will be — at least among awards nerds. But there's a difference between a villain and a punch line. While To Leslie has supplied us with great memes, beautiful memes, I don't get the sense too many people are rooting against the woman who stars in it. As Robert Daniels put it in the Los Angeles Times, "Although it's easy to point a finger at Riseborough for taking a slot from Black women, broken systems persist when we focus our ire on individuals." Who needs to take down a movie that made less than half the median U.S. income at the domestic box office?
To that end, are we heading into Oscar night with no Oscar villains? If so, I can't help thinking that's a loss for the Academy. It's all well and good to use the Oscar race to celebrate the movies that uplifted us, made us laugh, or transported us to another world. But it's simply much less fun to root for something without also knowing what you're rooting against. Which is why I'm going into Sunday night quietly hoping that All Quiet on the Western Front will be able to pull off a few upsets. After all, decades of Hollywood history tells us that if you need a villain, you can't go wrong with the Germans.