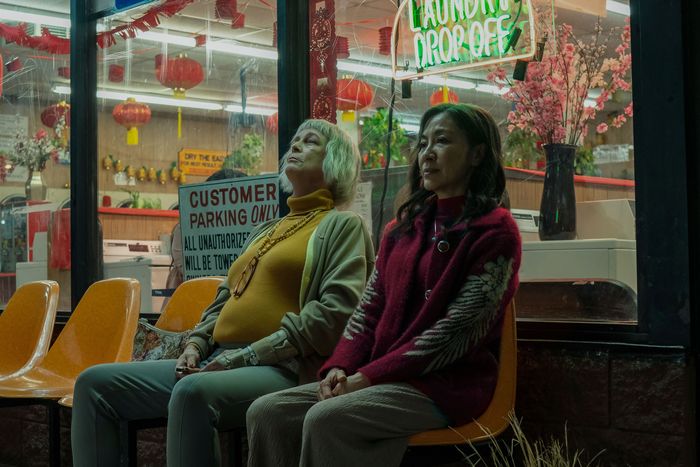 TFW you win Best Supporting Actress and Best Actress.
Photo: Allyson Riggs/A24
Somewhere in the middle of the Best Original Song performance of "This Is a Life" — I think it was the moment David Byrne unveiled his hot-dog fingers while Best Supporting Actress nominee Stephanie Hsu made bagel shapes with her arms — it struck me: I cannot believe a movie this weird is the Oscar front-runner.
Believe it. By the time the lights came up on the 95th Academy Awards, Everything Everywhere All at Once had won almost everything, everywhere, all through the night: Best Supporting Actor, Best Supporting Actress, Best Original Screenplay, Best Editing, Best Director, Best Actress, and, as if there was any suspense after all that, Best Picture. That's two different Oscar records broken: the most trophies won by a Best Picture winner since the category expanded in 2009, and the most awards a film has ever won in the above-the-line categories. (The film also tied A Streetcar Named Desire and Network as the only films to win three acting trophies.) It was the kind of old-fashioned Oscars sweep I didn't think we'd see again, to go along with the endearingly retro tone of the ceremony itself.
In a sense, this was the timeline everyone thought we'd end up in. EEAAO had been pegged as a potential Oscar juggernaut since it went four-for-four in Hollywood's most important precursor awards: the DGA, the PGA, the SAG, and the WGA. Any doubts that the Academy would follow suit dissipated early in the telecast, when it became clear that every single mention of the film's title would be greeted with raucous applause. By the time Jamie Lee Curtis took the Oscar that eluded each of her parents, roughly 35 minutes in, it was basically over. The rest of the night was a coronation.
Nevertheless, you would need an almost infinite number of hands to count off the reasons Everything Everywhere was not an obvious Oscar front-runner from the get-go. The dildos, sure. But there was also the cast, which — Curtis aside — was almost entirely Asian or Asian American, and almost entirely made up of actors who were either unknown or underappreciated. The setting, not Regency England or a World War I battlefield but an IRS office, in the multiverse. The directors, a pair of music-video veterans whose chief thematic concerns were anal fixations and magic erections. The release, in March, the same weekend of the previous year's Oscars ceremony. (Which turned out to be the earliest release date for a Best Picture winner since Silence of the Lambs.) The plot, a whirlwind mélange of homages spanning the high-low divide, from The Matrix to Jackass, from Wong Kar-wai to Stephen Chow. The Fabelmans this was not.
With all that working against it, why did Everything Everywhere win? This victory will surely be attributed to the Academy's influx of new members, the younger and more daring voters who powered Moonlight and Parasite to victory. I think that's correct; by any measure, this is not a film that could have won Best Picture a decade ago. But EEAAO also won, in part, because at this point in awards-season history, you don't want to be The Fabelmans. The Oscars race is above all an expectations game, and Everything Everywhere benefited all season long from the sense that it was playing with house money.
Thanks to To Leslie, we've spent the past few months debating over the true meaning of "grassroots" campaigns. Which support is more authentic: the kind that comes from being launched at the most prestigious film festivals, or the kind that comes from famous actors CC-ing each other on chain emails? Whatever your answer, I don't think there's any doubt that, if there is indeed such a thing as organic awards buzz, it would be that of Everything Everywhere, a smallish movie put out into the world with few hopes of Oscar gold, and which became a player based on sheer audience enthusiasm. The film was a rare beacon of light during a dark spring for theatrical moviegoing, breaking A24's box-office record and inspiring a rabid cult following who saw it over and over and over again. To those people, there's no question at all: Everything Everywhere won because it was the best movie of the year. Many of them might even say "decade" or "century." They're a passionate bunch.
Of course, all the five-star Letterboxd reviews in the world can't usually nab you an Oscar; otherwise, The Godfather would just win every year. To reintroduce EEAAO as an awards contender in the fall, A24 embarked on a tireless publicity blitz, establishing the movie not just as an audacious live-action cartoon, but a film that touched audiences' hearts. Key to this was Michelle Yeoh. "How do you get through that early phase with all the new shiny objects?" a studio executive told The New Yorker. "You start with Michelle, because she is the movie." A viral GQ video from the spring, of the actress breaking down in tears recalling her long wait for a role this good, set the tone. In September, Yeoh joined Brendan Fraser in being fêted at the Toronto International Film Festival's awards gala, speaking with such grace that you forgot all about the butt plugs.
The next month, directing duo the Daniels and Hsu went out to the Hamptons Film Festival to stump for her supporting-actress bid in front of roughly a dozen people. Countless similar events took place all over, all season long. (Puck's Matthew Belloni reported that A24 dropped more on the EEAAO awards campaign than it ever had before, pegging the total cost at around $10 million — astonishingly, still less than a major studio typically spends.) Everyone had their role. Yeoh was regal, Ke Huy Quan enthusiastic and grateful, the Daniels and Hsu artsy outsiders, Curtis the ambassador to the Hollywood elite. As with CODA last year, the point was getting everybody together, making them appear as much an offscreen family as they were onscreen. The fact that it was most of the cast's first go-round with Oscar buzz surely helped them manage the monthslong marathon. None of them were taking this experience for granted. Even a year in, they still managed to find ways to talk about the movie as if for the first time.
On the festival circuit, an emerging consensus deemed 2022 a down year for prestige fare, a two-years-down-the-road consequence of the COVID shutdowns. As many of the fall's ostensible Oscar players disappointed critically or commercially, EEAAO took pole position almost by default. But everything that was seemingly working against the film also insulated it from the traditional front-runner's curse. It was simply too strange not to feel like an underdog, even when it started racking up the nominations befitting a major contender.
Like Sister Aloysius, I had doubts. How would older voters respond to a film whose tone and visual language mimicked the ADHD-addled mode of the millennial internet? (My parents, who are often a good barometer for Academy taste, watched the trailer and found it "very overstimulating and visually bombarding.") And Everything Everywhere was hardly universally beloved. Critics like Justin Chang pronounced it "admirably ambitious, wildly idiosyncratic and maddeningly overwrought." Would EEAAO be too polarizing to triumph on the preferential ballot?
Turns out, no. Like its heroine, the film was adept at transforming; it could be anything to any voter. A new Academy member could see a portrait of Asian American immigrants, a valuable spotlight on a community recently threatened by racist violence. A more traditional voter might look past the sex toys and see a heartwarming family drama where the universe is saved by a hug. A Hollywood veteran concerned about the industry's financial future could see a big theatrical hit based on an original idea. Someone in therapy could get a lesson on intergenerational trauma. What united all of these readings was the idea that, while individual scenes in the movie may have been borrowed, together they all added up to something entirely new.
The EEAAO campaign proved equally effective at meeting the demands of the day. One of the film's biggest weaknesses was the fact that its fans were, well, a little annoying. But co-director Daniel Kwan took pains to push back whenever they got too mad online, in a way that left nobody's feelings hurt but also underlined that the movie was not its fan base. (This was when I knew the film could win.) Once the precursors began in earnest, they pitched a perfect game. When Everything Everywhere won Best Cast at the SAG Awards, the victory speech was given not by Yeoh or Quan, who'd accepted a million awards by this point, but 94-year-old secret weapon James Hong, who spoke movingly about how when he'd started out in Hollywood, lead Asian roles had been played by white actors in yellowface. "Producers said that Asians are not box office. But look at us now!" (This is when I knew the film would win.)
In the wake of CODA's victory, an awards strategist I spoke to put forth a theory of the race that has stuck with me. In the old days, Best Picture was an award for Best Artistic Achievement. Now, thanks to the preferential ballot, the top prize is awarded on the basis of Most Likable — and there's no question what the most likable movie in this race was. Compared to the muted despair of Banshees of Inisherin, the blood-soaked horror show of All Quiet on the Western Front, and the Teutonic severity of Tár, EEAAO might as well have been a golden retriever. But even more so, Best Picture is a matter of which movie resonates with the energy of its particular moment. I don't think it's any mystery why, in the wake of the pandemic, Oscar voters are gravitating toward films that serve up big, bright primary-colored emotions. As Kwan said in his Best Director acceptance speech, the message of Everything Everywhere was that "there is greatness in every single person." What's more Oscar-y than that?