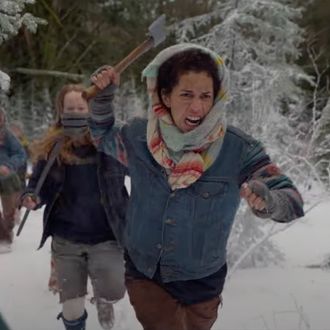 Sorry, USMNT, our No. 1 (varsity) soccer team would eat y'all alive. Everyone's favorite Probst-free survival series, Yellowjackets, is returning for a second season on Friday, March 24, for Showtime on Demand and Streaming subscribers. Then, it will premiere on-air on Sunday, March 26, at 9 p.m. ET. The Ashley Lyle and Bart Nickerson not-not-cannibal show is set to impale fans with answers to their theories and presumably take a twisted turn. After all of those questions, let's get into a few answers, starting with the trailer.
What happens in the trailer?
Showtime has released a new trailer for season two, and it's a lot more forthcoming with some crucial info. Lottie? She's been in a mental institution in Switzerland. The running girl from the series premiere? We see another angle of her falling into trap, and a shot of the Yellowjackets in winter carrying someone tied to a large branch. The trailer shows adult Tai and Van reuniting, a flashback of Misty and the other Yellowjackets getting swarmed by paparazzi upon their return to civilization, and the police paying Shauna and her husband a visit about Adam. Some sort of darkness seems to have followed the Yellowjackets home in present-day New Jersey, and they're having glimpses of the Antler Queen's shadow.
Most troubling is that the trailer begins with young Van in full mystical-cult mode, narrating some sort of ritual: "Once upon a time there was a place called the wilderness. It was beautiful but it was also violent and misunderstood. And it waited and waited to befriend whoever arrived." RIP, sardonic, relatable young Van. Hello "whoever gave you flawless cosmetic surgery in the forest also threw in a third eye for free" Van.
Last season ended with Juliette Lewis's Nat being abducted by Lottie's followers, and in previous teaser for season two, we get our first glimpse of Simone Kessell in the role, leading Nat in what seems like some sort of guided hypnosis back to their past in the wilderness. But why would Nat trust Lottie? Back in Canada, it's serious winter now, with many feet of snow covering the cabin and the path back to the crashed airplane. In the teaser, we see glimpses of Coach Ben looking scared (of who, the Antler Queen?); young Van toasting someone with golden goblets (is this some kind of Hook-like fantasy feast sequence?); another set of characters wearing spooky animal masks (who brought a glue gun?); Shauna screaming (maybe while in labor?); someone making that weird triangle symbol in the condensation on a glass window; the Yellowjackets, in what look like Greek togas, kneeling before a long-haired brunette (Lottie, maybe?); one of the girls foaming at the mouth; and Travis, his eyes rolled back in his head, looking very off … and possibly possessed?
In the present day, we see new state senator Tai going into what looks like an office building (with a Rosemary's Baby poster and an American flag on its walls, an interesting juxtaposition in what could be her campaign headquarters?), shining a flashlight down that tunnel that led to her bloody altar (meaning that maybe she didn't know she set it up?), and checking out her eyes in a mirror — a nod to that spooky guy she saw at her grandmother's deathbed? Misty dissolves into tears over something — maybe Nat's disappearance? Elijah Wood makes his first appearance as Misty's fellow citizen detective and calls her "friendships a little more complicated than most" — ain't that the truth! And while this clip is a little light on Shauna and Jeff as adults, maybe that's because they've spent all their time since season one … actually joining a book club?
What's obvious from this trailer, with all it gives us to ponder, is that Yellowjackets is once again leaning heavily into that whole "Is the evil real, or is in the girls' heads?" approach, which we know makes for a bloody-fun time. Note the following lines from Nat: "Darkness. We brought it back with us" and "It's happening again, isn't it?" It sure is!
Are there any other survivors in season two?
Vulture first kicked a flawless goal when TV critic Roxana Hadadi posited that, if teen Van (Liv Hewson) survives on the Showtime breakout series, her adult self should be played by Lauren Ambrose. And it turns out, Ambrose is indeed getting her own metaphorical Yellowjackets letterman jacket as a series regular playing adult Van.
On December 22, Showtime released photos of Ambrose as Van, whose scars have healed up quite nicely and who appears to be very into Pop Art–figurine collecting in adulthood (we all have to cope somehow).
Elsewhere in the magical forest of Yellowjackets season-two details, Vulture's gift of sight ran out when we got to the psychic character in a turn of fate that Alanis Morissette would definitely call ironic. Adult Lottie will officially be played by Our Flag Means Death and Obi-Wan star Simone Kessell. Our crystal ball may have fogged over, originally predicting Shannyn Sossamon for adult Lottie, but at least we now know the creepy mystic survived the wilderness. Apparently only Lottie herself could have seen it coming. Per Variety, adult Lottie will also have an associate named Lisa (Nicole Maines), who is trying to recover from past trauma.
Both Hewson and Courtney Eaton, who plays teen Lottie, have been upped to series regulars for the second season. That's like going from a … uh … rookie to a … um … striker?
Who else is joining the cast?
Melanie Lynskey, Juliette Lewis, Christina Ricci, and Tawny Cypress — who play Shauna, Natalie, Misty, and Taissa, respectively — have all survived to see another season. Lynskey even has a special guest coming for an episode in season two: Her husband Jason Ritter will star in a guest role in an unnamed role, according to Variety. Also joining the team is Malaysian actress Nuha Jes Izman as Crystal, a JV team member and theater kid that will bond with Misty. François Arnaud will guest star in four episodes as Paul, a New York writer and Coach Scott's (Steven Kreuger) secret boyfriend. The role of Teen Akilah has been recast as Nia Sondaya.
And in news that only Faramir could have dreamed up, Elijah Wood is joining the cast of Yellowjackets — but not as an adult version of anyone, just, like … as an adult. "Wood will play Walter, a dedicated Citizen Detective who will challenge Misty in ways she won't see coming," says a press release. Misty, you've got a big storm coming.
What about the music?
Don't worry; the dog days are almost over. Florence from Florence and the Machine posted an Instagram reel of herself searching for a Yellowjackets jacket among her flowy dresses with the caption, "So happy I got picked for the team this year." The video also revealed a sneak peek of her cover of No Doubt's "Just A Girl," which we hear in the latest trailer for the new season.
What if I can't wait until March for more Yellowjackets?
On December 21, Showtime released a two-hour Yellowjackets Yule Log on YouTube. It's a POV looking out the window of their desolate forest cabin into a harsh wilderness, with the show's mysterious symbol occasionally popping up in the fogged glass. If you keep your eyes peeled for two full hours, we're very worried about you, first of all, but also you might find some Season Two clues. Get at it, citizen detective!
What about season three?
Showtime has already renewed Yellowjackets for a third installment. Buzz freakin' buzz!
This post has been updated with additional information.