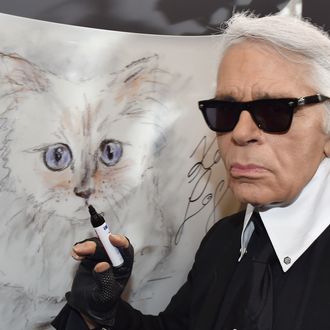 Photo: Jens Kalaene/picture alliance via Getty Images
Trend forecaster Mandy Lee has been counting down the days to the Met Gala on TikTok, breaking down past looks and making predictions about what everyone's going to wear this Monday. One piece of hot goss she dropped: more than one person is rumored to be going dressed as Karl Lagerfeld's beloved cat, Choupette. This year, the Met Gala's theme is the work/life of noted fashion designer and certified cat fancier Karl Lagerfeld. Lagerfeld once said he'd marry Choupette, and he bequeathed a sizable chunk of his estate to the feline. Choupette will be in attendance at this year's gala, but what star will be bold enough to serve pampered pussy on the Met stairs?
Kim Kardashian
Ahead of Monday's gala, Kim K spent some time with Choupette in Paris. Kardashian is now known for pulling stunts on the Met carpet, thanks to her blacked-out Balenciaga look in 2021 and the whole Marilyn mishegoss in 2022. One strike against the idea of it being a Kardashian is based on Lee's TikTok. Lee suggested a good way to honor Choupette would be to wear a Schiapparelli dress with a cat head bustier. Kylie Jenner already did that at Paris Fashion Week this year. Wouldn't want to be caught retreading her little sister's looks, now would she?
Doja Cat
Lee thinks Doja Cat is the most likely to cosplay Choupette this Monday. She points to Doja's trolling use of fashion as well as her relationship with Schiaparelli as evidence. Also, duh, her stage name. Doja Cat has been known to make herself suffer for fashion. She showed up to the same Schiaparelli couture show as Kylie Jenner in head-to-toe red crystals. Doja Cat later said the look took hours to glue on, during which she had gastroenteritis. Being a cute little catgirl is a walk in the park, comparatively.
Julia Fox
This feels like some shit she'd pull, right? Unfortunately Julia Fox is not confirmed to be attending to 2023 Met Gala. One wonders if she would have served as hard as she did at the White House Correspondents Dinner red carpet if she had the Met Gala carpet to walk the following week.
Sofia Richie
Sofia Richie wore archival Chanel (a lot of it) at her wedding to Elliot Grainge in April. If she is attending, it would make sense to escalate her Lagerfeld standom by dressing as Choupette. However, she could also still be on her honeymoon.
Emma Chamberlain
Vlogger and cat mom Emma Chamberlain is doing interviews on the Met Gala red carpet. What better way to get conversations started than by wearing a real statement piece like some diamond-encrusted cat ears? Chamberlain currently owns two cats, Declan and Frankie, so there's a kinship there.
Bad Bunny
Let's see some catboys on the carpet! Of all the male celebs likely to attend this year's Met Gala, Bad Bunny has the most fun with fashion. His look at last year's Gala played with gender while also paying homage to Puerto Rican tailoring of the Gilded Age. He was very thoughtful with the theme, and that can/should happen again this year.