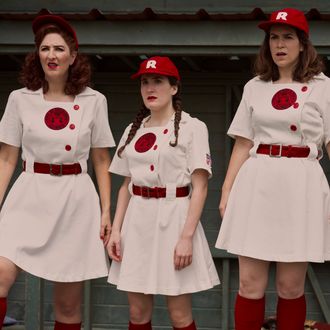 Bring back my girls.
Photo: Anne Marie Fox/Prime Video
The Rockford Peaches will get four more episodes to their name — one for each base, of course. The Prime Video series A League of Their Own, a loose reboot of the 1992 Penny Marshall film, has been officially renewed for a second and final season. An official press release from Amazon confirms that this new season will be a four-part limited series. The renewal comes months after the original season aired in August 2022 — a delay The Hollywood Reporter credits to renegotiations with Sony Pictures Television to lower League's licensing fee and the fact that the cast needed to sign new deals because of the show's now-lower episode count.
Showrunner Will Graham (Daisy Jones & the Six) tweeted in March that the deal wasn't yet "official" to explain why he hasn't commented on the renewal. "So if you want to see more episodes or more seasons of this show, now is your moment," Graham urged fans. "People are listening." The series was created by Abbi Jacobson (Broad City) and Graham, and follows the All-American Girls Professional Baseball League, like the original — though this version is much more overtly queer. "Making this show and seeing the impact it has had in the world has been an incredible joy," Will Graham and Abbi Jacobson said in the press release. "While obviously we were hoping for eleven seasons, we're grateful to be able to continue to tell the story of these characters and this world." Batter up, Amazon! Let's hit this run of episodes out of the park.
This story has been updated with additional information.