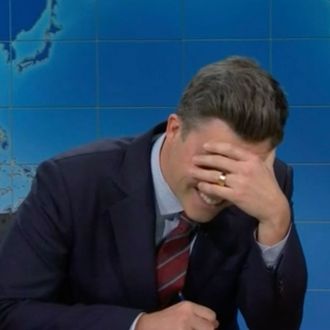 Pranks are a dangerous game, especially when they're played on someone out in the open. On the one hand, you have Rihanna on Punk'd. On the other, you have Angela Bassett's son telling her that Michael B. Jordan died, which was very bad. Yes, the celebrity component causes the prank to vacillate between iconic and moronic faster than even the world's best (worst) prankster, Winston Bishop, could manage. Luckily, this April Fools' Day, most of the pranks erred on the side of fun, silly, and not that traumatizing. Below, we've gathered our favorite celebrity pranks from 2023's Comedy Halloween, because everybody deserves a little bit of public Schadenfreude.
Michael Che's Prank on Colin Jost on "Weekend Update"
In in the Jost-Che era of "Weekend Update," there have been some pretty dastardly things done to Colin Jost. The two hosts' annual joke swap has painted Jost as a white-supremacist bigot, and Sarah Sherman routinely refers to Jost as an antisemitic child molester. Yet there's nothing worse you can do to comedians than deprive them of laughs. They're like Tinker Bell. They need laughs to live! So, as Michael Che reveals halfway through this week's "Update," he'd coached the audience not to laugh at Jost's jokes, leaving Jost in a fit of sweaty hysteria.
Sarah Polley Receives a Note From Oscar
Women Talking? More like Daughters Writing (Mean Notes to Their Mothers). Writer-director Sarah Polley won this year's Academy Award for Best Adapted Screenplay for her film Women Talking but, on April 1, was informed that, actually, she needed to give the gold right on back so that the Academy could hand the Oscar over to "the rightful" winner — All Quiet on the Western Front. "We are giving you one more week to enjoy its presence in your home, but after that period of time you must mail it back to LA," the note read. Lucky for Polley, the note actually came from her 11-year-old daughter, who may just receive an honorary Oscar for Best Prank before the year is up.
An Audience Is Denied Florence Pugh
When you attend a screening of a four-year-old movie, the last thing you expect is to become a test audience for a film that hasn't even come out yet. However, a New York Alamo Drafthouse audience expecting to see Ari Aster's Midsommar was instead treated to a showing of the director's upcoming project, Beau Is Afraid, starring Joaquin Phoenix. People missed out on Florence Pugh but, hey, at least they got Patti LuPone. That's a fair trade in our book.
Usher Didn't Bring Beyoncé Out
For most people, invoking Beyoncé's name is like saying "Bloody Mary" in the mirror three times — don't mess with it. But Usher is a rare person who can claim to have Beyoncé at his show, and, when he doesn't, not end up with an angry audience pelting him with tomatoes and carrying pitchforks. He exercised that right this April Fools' Day at his Dreamville Music Festival concert in Raleigh, North Carolina, as seen in a video posted to Instagram, leaving his audience bewitched, bothered, and beleaguered. Watch this!