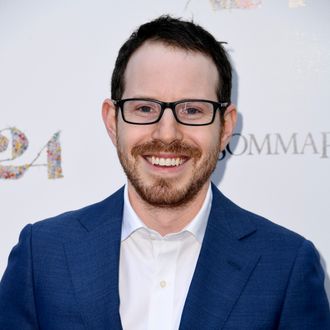 Photo: Frazer Harrison/Getty Images
When you buy a movie ticket, you generally get to watch the movie that is on said ticket. But on April Fools' Day, pesky rules like that don't always apply — per several social-media accounts, an audience sat down at the Alamo Drafthouse in New York on Saturday expecting to see a director's cut of Midsommar and a ten-minute preview of Beau Is Afraid. Instead, director Ari Aster walked out with Joaquin Phoenix (who plays Beau) to introduce a full viewing of Beau Is Afraid, which isn't due in theaters until April 21. The A24 film follows the paranoid Beau's journey to get home to his mother (Patti LuPone).
Per Deadline, Aster returned after the three-hour screening for an Emma Stone–moderated Q&A, during which he shared that Phoenix fainted and "fell out of frame" while filming a scene with Patti LuPone for the A24 movie. "I was really pissed 'cause it was a really good take. It felt confusing so I went around the corner and he was collapsed," Aster reportedly said. "I knew it was bad because he was letting people touch him and people were tending to him and he was allowing it. The point is that he fainted in somebody else's take, he wasn't on-camera and he was helping them, he was in it for them to the point where he collapsed." Nathan Lane, Amy Ryan, Kylie Rogers, Denis Ménochet, Parker Posey, Stephen McKinley Henderson, Richard Kind, Hayley Squires, and Michael Gandolfini also star. Barring any further prank showings, you'll have to wait a couple weeks to see the movie Aster has described as a "Jewish Lord of the Rings, but he's just going to his mom's house" for yourself.