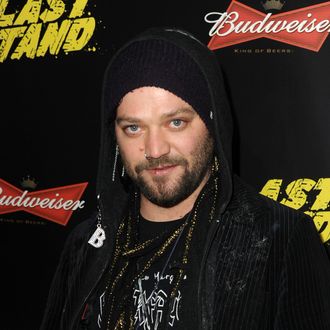 Photo: Kevin Winter/Getty Images
Former Jackass star Bam Margera is reportedly on the run after a warrant for his arrest was issued in Pennsylvania over the weekend. Pennsylvania State Police are searching for Margera because of a physical altercation with one of his family members who suffered minor injuries, according to a press release obtained by Vulture. After the incident, Margera reported fled into "a wooded area" before the police arrived at the scene. He is facing five charges including four counts of terroristic threats with intent to terrorize another and one count of simple assault. This is Margera's third run-in with the law this year. Margera was arrested twice in California in March 2023 — once in San Diego for allegedly kicking an unidentified woman and later that month in Burbank for public intoxication. In early April, he received a retraining order from a man for threatening his life, though it was dismissed by a judge a few days later.
This is a developing story.