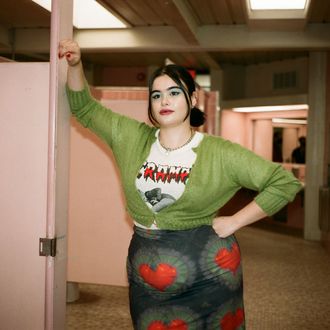 Larry shippers salute you.
Photo: Eddy Chen/HBO
After months of stories that have landed Euphoria and The Idol creator Sam Levinson in hot water, here's one in which the water is just lukewarm. Barbie Ferreira, who plays Kat in Euphoria, clarified that her departure from the show for its upcoming third season was "mutual" following rumors of drama, mama. Ferreira will no longer be starring in the hit HBO series after a drastic reduction in screen time during season two. While the assumption in August was that Ferreira and Levinson had butted heads, Ferreira disputed that claim on Armchair Expert With Dax Shepard. "I think my character, who I love so dearly, I don't think there was a place for her to go," Ferreira said on the podcast before kind of walking that back. "There were places that she could go; I just don't think it would have fit into the show," she said." I don't know if it was gonna do her justice." So if she wasn't going to be a major part of the show, as she had been originally, Ferreira's interest in being in it at all decreased. "I really wanted to be able to not be the fat best friend. I don't want to play that, and I think they didn't want that either."
Ferreira added that she wasn't thrilled to be leaving but said it wasn't worth it for either party with the material she would have received. "I would have played her for as long as I was asked to, depending on what the material was," she continued. "It obviously hurts because I love Kat and she was so important to me and a lot of people." Another part of the issue for Ferreira was the length of the shooting period. "It's nine months!" she said, relatably. "This takes up a lot." But don't cry for Barbie, Argentina — she already has a new project with Michael Shannon and Kiersey Clemons in the works.