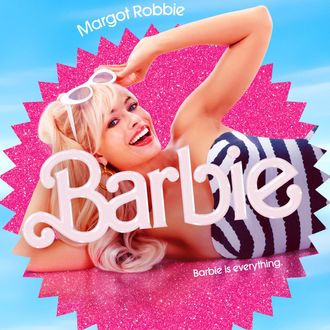 She's Barbie.
Photo: Warner Bros.
This Barbie (Vulture) is very excited for the Barbie movie, and these Barbies (the cast) are part of the reason why. The Barbie team blessed April 4 with oodles of content, first and foremost including a trailer featuring a self-driving Barbie Corvette, which, if Elon Musk has any worth, Tesla will be making real ASAP. A cavalcade of character posters featuring many different iterations of Barbies and Kens dropped, plus some other girlies thrown in along the way. Among the Barbies is Issa Rae Barbie (who has the tagline "This Barbie is President"), Hari Nef Barbie ("This Barbie is a doctor"), Emma Mackey Barbie ("This Barbie has a Nobel Prize in physics"), Dua Lipa Barbie ("This Barbie is a mermaid"), and, of course, Margot Robbie Barbie ("Barbie is everything"). The Kens, meanwhile, have Ryan Gosling Ken ("He's just Ken"), Simu Liu Ken ("He's another Ken"), Ncuti Gatwa ("Ken again!"), Kingsley Ben-Adir ("He's Ken too"), and Scott Evans ("You guessed it. He's a Ken").
Margot Robbie as Original Barbie
Margot Robbie is playing the OG Barbie, and she has the swimsuit to prove it. In both the previously released first teaser trailer and in her promo image, Robbie is bedecked in a version of Barbie's original black-and-white swimsuit from 1959.
Ryan Gosling as Ken
While he is not dressed in as clear a reference as OG Barbie is, Ryan Gosling Ken Doll is a classic beach bum, which harkens back to the doll's first appearance, in which he was in tiny red swim trunks. However, Gosling's color story appears to reference not the original but the 1979 Sun Lovin' Malibu Ken, which male fashion-doll historian site Something About the Boy notes is the only Ken with tan lines on his ass.
The Other Kens
The other Kens are less referential. As each of their taglines note, these Kens are just other Kens. Gatwa is in a country-themed outfit, but it doesn't look much like the Grand Ole Opry Ken, and the others are similarly in the "Ken vibe" without being direct references to real Ken dolls of yore.
Dua Lipa as Mermaid Barbie
This Barbie may be a mermaid, but she's more than that; she's a movie star. Dua Lipa's Mermaid Barbie appears to be based on the character Nori from the 2006 animated film Barbie: Mermaidia.
Issa Rae as Presidential Barbie
Barbie has long been a presidential candidate, dating back to her first run in 1992, in which Barbie was bedecked in a full ball gown. Later, she would adopt more power suits, and in 2016, Mattel released a duo of Barbies, with one as the commander-in-chief and the other as her VP.
Emerald Fennell and Michael Cera as Midge and Allan
But Barbie isn't just about the Barbies. Emerald Fennell and Michael Cera star as Midge and Allan, respectively. Midge and Allan are married friends of Barbie and Ken's who were followed by a pregnant Midge doll in 2002. The pregnant Midge, who wears the same color that Fennell is wearing here, was pulled from Walmart after parents complained about the pregnant doll.
Kate McKinnon as Your Younger Sister's Broken Barbie
Perhaps the most accurate Barbie of all, though, is actually played by Kate McKinnon, whose tagline reads "This Barbie is always in the splits." With her mangled hairdo and crayon-drawn face, the verisimilitude of McKinnon's Barbie is what a 2-year-old would do with the fashion icon.
The Other Barbies
Greta Gerwig has additionally populated her film with a freakish amount of Barbies in professional careers, including a doctor, a Supreme Court justice, a diplomat, a lawyer, a Pulitzer Prize winner, a Nobel Prize–winning physicist, and a celebrated author. Y'know, easy stuff. Barbie's first-ever job was in 1960, when she was a fashion designer, and the following year she was an airline stewardess. The level at which these Barbies have received accolades is a little cheeky (real Barbie was once a judge, but she was never officially in the Supreme Court, for example).
Will Ferrell Is Mother
Outside of Barbie Land sits Will Ferrell, who will be playing the CEO of Mattel. The real CEO of the company is a man named Ynon Kreiz, but Ferrell's fictional role exists alongside fellow non-dolls like narrator Helen Mirren, America Ferrera, Ariana Greenblatt, Jamie Demetriou, and our third Sex Education star, Connor Swindells. We expect confirmation of a RuPaul needle drop expeditiously. Most important to note is that Will Ferrell's tagline is "Please call me mother." More like call him MILF, are we right?