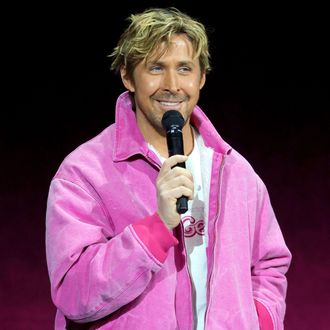 Ryan Gosling is Ken. Ken is Ryan Gosling.
Photo: Ethan Miller/Getty Images
We know Barbie is camp. We didn't know that it's witchy. Ryan Gosling, the Ken to Margot Robbie's Barbie, said that Robbie and director Greta Gerwig basically called forth the spirit of the male doll to help him get into character. "Up until this point, I only knew Ken from afar," Gosling said at a Warner Bros. Pictures CinemaCon event on April 25, per Variety. "I doubted my Kenergy. I didn't see it. But Margot and Greta conjured this out of me." Their magic worked. Viral leaked videos taken on set depict a neon-clad Gosling Rollerblading up and down Venice Beach — fanny pack in tow. He's convincing in first-look images. Only someone possessed by Ken could have pulled off sported a cutoff denim jacket with matching jeans and his own name on the waistband of his boxer briefs, gaze himbo, brain empty. I just know that doll got a hold on Gosling's consciousness, because his line delivery in the trailer is scary good. "I thought I'd stay over tonight," the platinum-blond doll tells Barbie (Robbie), innocently unaware of what couples do when they stay the night. "Because we're girlfriend-boyfriend." At the CinemaCon event, Gosling sported messy blond hair, a Valley-girl tan, and a bubblegum-pink bomber jacket over a T-shirt that says "Greta Gerwig" in Barbie font. Who's gonna exorcize him?