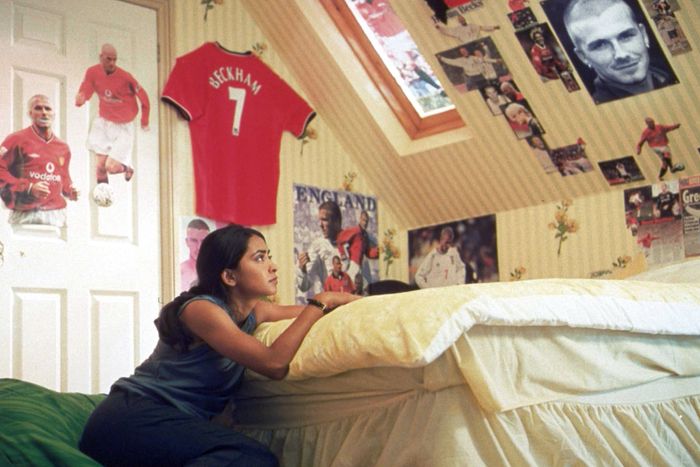 For the next few weeks, Vulture will be selecting a film to watch with our readers as part of our Friday Night Movie Club. This week's selection comes from Vulture TV critic Roxana Hadadi, who will begin her screening of Bend It Like Beckham on April 28 at 7 p.m. ET. Head to Vulture's Twitter to catch the live commentary.
We used to be a proper country, and by that I mean we used to be awash in coming-of-age movies that honored the spontaneity and selfishness, eagerness and yearning, awkwardness and assuredness of being a teenager just figuring shit out. In the aughts glory days, Mean Girls took on imposter syndrome and cutthroat clique competition; Bring It On cultural appropriation and white privilege; Donnie Darko mental illness and time travel; and Swimfan erotic obsession and — more importantly! — the dangers of loading your email inbox on a school computer for everyone to see. It's not that these films about the blissful-slash-tortuous experience of youth have been totally wiped out: Netflix has made a nice little cottage industry out of boys loved before and kissing booths. But there used to be more to teen movies than just romance; there used to be self-discovery, dammit! And in that time period, few films nailed the euphoria of speaking and living your truth like Bend It Like Beckham.
Released 20 years ago, Bend It Like Beckham was director Gurinder Chadha's third cross-cultural comedy-drama after Bhaji on the Beach, about intergenerational conflicts between a group of Indian British women, and What's Cooking?, about four families of different religions and ethnicities celebrating Thanksgiving together. But Beckham — co-written by Chadha, her husband and writing partner Paul Mayeda Berges, and Guljit Bindra — was a breakout hit, earning back nearly 15 times its budget. Set in the culturally diverse Hounslow suburb of West London, the film follows teen Jesminder Bhamra (Parminder Nagra), a.k.a. "Jess" to her childhood best friend, Tony (Ameet Chana); her sister, Pinky (Archie Panjabi); and her new confidante and teammate, Jules (Keira Knightley), who encourages her to join the amateur women's soccer team the Hounslow Harriers.
Nagra carries the film with a wry and tender performance as Jess dares to dream for herself and go against her parents' wish to send her to university to become a solicitor. The Bhamras are caring but conservative, preemptively worried about how Jess's deviation from their communal norms might affect Pinky's engagement and the family's social standing. When Jess's mother (Shaheen Khan) sees her kicking around with young men in the park (in shorts, so scandalous!), she makes a meal out of tsk-tsking, head shaking, and hand talking her way through the admonishing line, "You're not a young girl anymore." Her father, meanwhile, played by the legendary Anupam Kher, delivers a heartbreaking speech about the racism he experienced while trying to play cricket after first immigrating to the U.K. They don't understand the joy Jess feels running up and down the pitch, or the camaraderie and trust she fosters among a team of women with the same competitive drive, or the real reason David Beckham's face lines every inch of her bedroom walls. She isn't fantasizing about a romance with him — she's fantasizing about his freedom. She wants to be him, not kiss him.
She does want, however, the Harriers' coach, Joe, played by Jonathan Rhys Meyers. He supports Jess's dreams and forges a kinship with her as an outsider: "Jess, I'm Irish. Of course I'd understand what that feels like," he says to Jess when an opposing player calls her a slur. That, plus his wondrously concave cheekbones, makes Joe a charming love interest, a softening of Meyers's previous bad-boy persona in Velvet Goldmine and Titus. (Chadha knew exactly what she was doing in the shot where Joe, with his crisp white shirt unbuttoned farther down than necessary, shows up on Jess's doorstep to plead her case to her parents.) Joe and Jess's first kiss is a nose-nuzzling, affectionate moment. But if you were to subscribe to the "Actually, Bend It Like Beckham is a queer love story" reading that has gained traction since the film's release, that would be fine, too. The effervescent friendship between Jess and Jules, the references to the Spice Girls' lesbian icon Mel C, the revelation that Jess's best friend, Tony, is gay and finds Joe "quite fit" — the subtext is all there.
Whichever version of Bend It Like Beckham you choose, what remains at its winning core is the message, appropriate for all ages, that you can be whoever you want. Ethnicity, gender, and class become irrelevant to a certain degree. Think of Jess telling her teammates when they question her parents' strictness, "It's just culture, that's all." Jess is shaped by her environment, as we all are, but Bend It Like Beckham allows her to shape herself — and those around her in turn. Her self-actualization grants her friends and family permission to live on their own terms: Jules goes to America, Jess's father plays cricket again, Joe turns down the men's-coaching offer to stay with the Harriers, Pinky becomes a mother. She bends the culture she was raised in to create a new kind of identity, a bit like the way Bend It Like Beckham tells a familiar rebellion story with a new kind of relatability.
The teen-movie boom of the early aughts was primarily American: Friday Night Lights, Save the Last Dance, A Walk to Remember, and She's the Man, the latter a soccer-focused Twelfth Night update that Bend It Like Beckham's critical and commercial success paved the way for. These movies relied on recognizable American customs and cultural practices, like high-school proms and graduations, football games and house parties. But what Bend It Like Beckham articulated so well with its cultural and national specificity — Indian-British teen, Punjabi-speaking parents, beans on toast and samosas — is that the adolescent desire to prove oneself has no borders or boundaries. Join us on April 28 as we celebrate its 20th anniversary together.