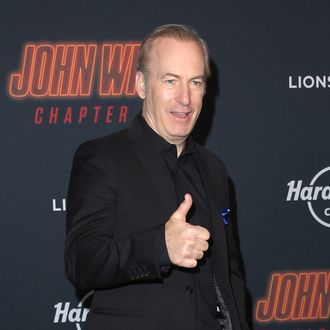 Photo: Steve Granitz/FilmMagic
Chicago makes two things better than almost any other city in America: Italian beef sandwiches and sketch comedians. Also one very specific preparation of hot dogs. Today, the first two synergize perfectly with the news that Bob Odenkirk will be joining the cast of The Bear in its second season. Variety broke the news, reporting that Odenkirk will be appearing in a currently unknown guest role. Odenkirk got his comedy start in Chicago, as detailed in his memoir, Comedy Comedy Comedy Drama.
The Bear focuses on Carmy Berzatto (Jeremy Allen White) as he tries to inject his fine-dining energy into his family's Italian beef joint, The Beef. Season one ended with the promise of killing The Beef and starting a fancier place in its carcass. Like if the inside of Han Solo's Tauntaun got a Michelin star. The show also stars Ayo Edebiri, Lionel Boyce, Ebon Moss-Bachrach, Liza Colón-Zayas, and Abby Elliott. Season two premieres this June.