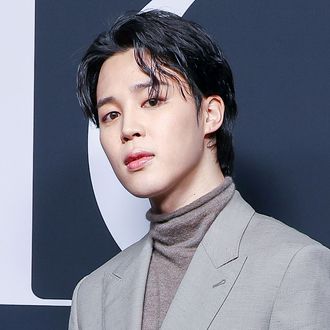 Serving
Face
.
Photo: Marc Piasecki/WireImage
Jimin did it on 'em, even if no one saw him coming. The BTS member debuted at No. 1 on the Billboard "Hot 100" with "Like Crazy," the lead single off his first solo album, Face (which itself debuted at No. 2 on the albums chart) — making him the first of his group to snatch a solo No. 1 hit. Although Beyoncé's son Jimin made topping the charts in the world's biggest music market look like it's easy or something, in actuality it's a massive, history-making feat. He's the first South Korean soloist to lead the chart and the second Korean act overall, behind only his own group and their six No. 1's. Plus Jimin knocked Miley Cyrus's chart monster of a single "Flowers" from the No. 1 slot, where it reigned for a combined eight weeks. Massive sales are responsible for his success on the charts with the Pdogg- and Ghstloop-produced track, co-written by Jimin, bandmate RM, and others. Jimin's prerelease single, "Set Me Free Pt. 2," bowed at No. 30.
"Like Crazy" sold a jaw-dropping 254,000 song downloads and CD singles, drew 10 million streams, and had a teensy airplay audience of 64,000, the lowest for a "Hot 100" No. 1 this decade. Five versions of the song were available to purchase and stream, including an English version, two remixes, and an instrumental, making it the highest sales week for a song since Taylor Swift's "Anti-Hero" and its seven remixes sold 328,000 copies. With numbers like these, it's no wonder Jimin also hit No. 1 on the "Digital Song Sales" chart and No. 35 on the "Streaming Songs" chart. Can't argue with numbers.