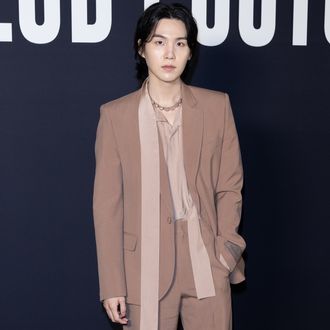 Photo: Marc Piasecki/WireImage
Suga of K-pop juggernaut BTS is going full Chris Gaines and releasing an album as his edgy alter ego. D-Day will be the debut album from Suga Agust D. Fun title! D-Day manages to reference Agust D's name, the BTS ARMY, and all the BTS members' compulsory military service in one fell swoop. Agust D will storm the beaches of Normandy April 21.
He's armed with some killer features too. The full track list dropped on April 10 with the late composer Ryuichi Sakamoto guesting on the album's penultimate song, "Snooze," together with Woosung of the Rose. Bandmate J-Hope joins Suga for "Huh?!" — which sounds like the cousin of a different BTS hip-hop track, "Ugh!" — while juggernaut singer-songwriter IU provides vocals for prerelease single "People Pt. 2." Although Suga participated in songwriting and overall production on the entire album, he wrote and produced lead single "Haegeum" sans collaborators. (The title refers to a traditional Korean string instrument — much like his last lead single, "Daechwita," referenced traditional Korean military music.)
Suga's is the latest BTS solo project to hit the market, with work by J-Hope, RM, Jimin, Jungkook, and Jin already keeping the ARMY fed.
As previously alluded to, music superstars often develop alter egos. Ziggy Stardust, Sasha Fierce, every time Seth MacFarlane pretends he's Frank Sinatra — the list goes on. It happens either as genuine exploration of the dissociative nature of fame or as a cheap gimmick to sell merch. Or both; it can always be both. The pair have already announced a tour, Hannah Montana–style, but will they ever perform together, like in The Lizzie McGuire Movie? If you don't think HYBE is working on that technology, you're living in a fool's paradise.
This post has been updated.