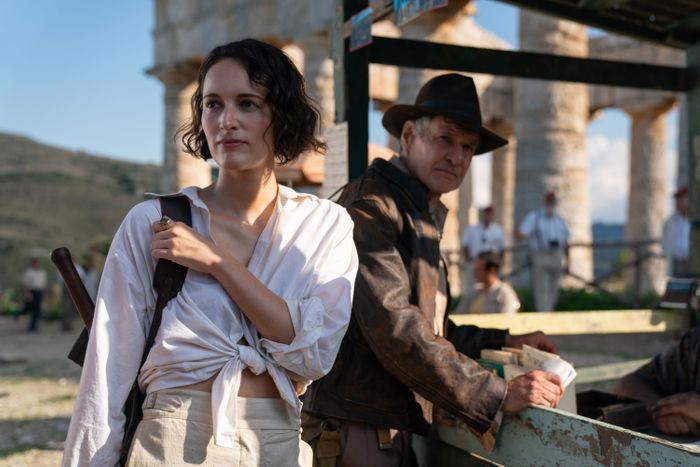 Photo: Jonathan Olley/Lucasfilm Ltd.
In sneak-preview footage of Indiana Jones and the Dial of Destiny that screened during the Disney panel presentation at CinemaCon Wednesday, viewers were treated to a triple-front spectacle. In what appears to be a first-act, getting-to-know-the-characters action sequence from this fifth and purportedly final film in the 42-year-old blockbuster franchise, Harrison Ford, Phoebe Waller-Bridge and a child actor whose name I couldn't immediately find on IMDb Pro swerve through the narrow streets of Tangier, Morocco, in a rickety tuk-tuk. They drift around turns, dodge gunfire, dispatch knife-wielding assassins from the top of the vehicle using defensive driving, and mow down murderous motorcyclists — all while engaging in conversational parry and thrust.
Actress–screenwriter–Fleabag creator Waller-Bridge denigrates Ford's daring adventurer as an "aging grave robber." It turns out Indy knew her character's father years earlier, and he proceeds to give Waller-Bridge heavy vibes about certain life choices. "Do you think he'd be proud of this? His only daughter selling her soul for bail money?" Jones shouts in the clip.
To which the kid — this installment's answer to Short Round, so it would seem — yells in response, "It's not all bail money. Some of it is gambling debts."
For savvy cultural consumers, part of the sequence's impact will derive from seeing Waller-Bridge explode her wordy, largely inert (or at best, briskly walking) public image as a lacerating wit — someone more likely to tear an antagonist apart verbally while seated at a café than resort to actual physical violence — by moving into legit Fast & Furious territory. Her character, Helena, rips the sleeves off her silk blouse and leaps from the tuk-tuk onto the back of a speeding Mercedes in an effort to choke bad guy Mads Mikkelsen into giving her the titular dial.
But the James Mangold–directed film's more absorbing spectacle is surely all that jarring action's soothing familiarity. Dial of Destiny's Morocco set piece provides a deliberate, dopamine-inducing echo of the bantery Cairo shoot-'em-up chase sequence from 1981's Raiders of the Lost Ark (which was actually shot in Kairouan, Tunisia). As exciting as the DoD footage may be, it's impossible not to see Waller-Bridge as a modern-day substitute for Karen Allen's sassy, brassy, defiantly self-sufficient heroine, Marion Ravenwood, from Raiders. And by once again placing Indy in a context immediately familiar to franchise fans yet just different enough to be original, DoD plays into a strategy that has worked with varying degrees of success in a number of Ford's most recent films — with the octogenarian actor reinhabiting old characters and retracing some of their dramatic footsteps in Blade Runner 2049 and 2019's Star Wars: The Rise of Skywalker. 
Then there is the sheer visceral jolt of watching an 80-year-old action icon — an ostensibly ageless yet actually superannuated swashbuckler — driving at high speed on sidewalks. He is seen jumping from vehicle to vehicle and punching out cannon-fodder villains without so much as ingesting a heart medication pill or breaking a hip. Viewed a certain way, this final franchise installment stands as a testament to Ford's enduring audience appeal as well as the strength of Indiana Jones IP four decades on from inception — even if one has to suspend no small amount of "go back to bed, Grandpa" disbelief to enjoy him in action.