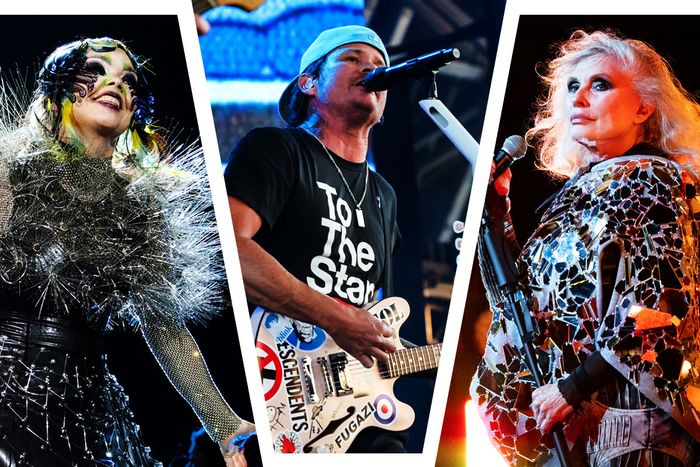 All highs: Björek, Tom DeLonge, and Debbie Harry.
Photo-Illustration: Vulture. Photos: Getty Images
We've been in a homogenous music-festival era for years. Today, organizers seem to relish copying each other's lineup choices like they forgot to study for a test the night before. Even something as big and successful as Coachella isn't been immune to the shift — well, except this year, where all three headliners (Bad Bunny, BLACKPINK, and Frank Ocean) decided to stick to Indio for the summer. Even the undercard had a unique spin: a late-breaking Blink-182 reunion, a Björk orchestral performance, a Desi takeover, and much more. Ahead, we run down the most notable (though not always great) moments we spotted in the desert — and over YouTube — this past weekend.
HIGH: Blink-182 picks up where they left off
Not to wish a finger injury on anybody, but it's fitting that Blink-182's reunion actually began at Coachella, just 100-something miles from where the band was first formed in the San Diego suburbs 30 years ago. Their set felt like a homecoming, from opening with "Family Reunion" (no, they haven't grown out of their middle-school sense of humor) to an instant-classic performance of "I Miss You." Also, these lovable burnouts came back sharp: Travis Barker is still a monster behind the kit, and Tom DeLonge must've spent a good chunk of his time away practicing guitar. As if you could get any more excited for next month's tour. —Justin Curto
HIGH: Blondie got Chic
After throwing down on classics "One Way or Another" and "Call Me," Blondie's Debbie Harry introduced a "very famous" and "wonderful, wonderful musician who's written some wonderful songs" to the stage: superstar bassist Nile Rodgers! With the shared carefree energy of two lifelong friends, Rodgers and the band tore through Blondie's 1981 chart-topping hit "Rapture" along with Harry's debut solo cut, "Backfired." —Reanna Cruz
LOW: BLACKPINK in your … [signal fade]
Halfway through an otherwise stellar set, the K-pop stars were nearly drowned out by Eric Prydz's HOLO performance on the neighboring Outdoor stage. Rosé had been talking about how wholesome and wonderful it was for BLACKPINK to be back at the festival, but I honestly couldn't make it out over Prydz's thudding bass notes. Making your Saturday night headliners hard to hear? Not the move, 'Chella. —R.C.
LOW (well, also, HIGH): $30 for three birria tacos
C'mon, man. —R.C.
HIGH/LOW: Rosalía's camera team
The Spanish singer took the Coachella YouTube stream into her own hands on Saturday by replicating one of the best parts of her stunning Motomami tour: getting her dancers to film her and live streaming it onto the big screen. Seeing it done on a festival stage made Rosa's Coachella experience all the more intimate — well, until the cameras stopped working, leaving the YouTube-viewing audience briefly in the dark. —Alex Suskind
HIGH: Charli XCX's ridiculous energy
Charli's first album landed nearly ten years to the day of her Coachella debut on Saturday — and the industry vet ran her stage with the gusto of a newcomer with nothing and everything to prove. The set reached back as far as "I Love It" and as deep as "Boys" and "Track 10" (back to back!), mixing and chopping up production at every turn (a nod to her PC Music–adjacent history), with body-breaking nonstop choreo (I'm still in pain). The highest high? An divine live debut of her "Welcome to My Island" remix featuring the full Macarena. Miz Charli Baby decided a long time ago that "pop star" is an attitude, not a genre. This is what it looks like. SOPHIE would be proud. —Dee Lockett
HIGH: Bad Bunny's headlining Sazón
Partway through his performance, Bad Bunny asked the audience: Should he speak in English or talk to the audience in Spanish? A resounding cheer was given for the latter. Pair that with a salsa break, shoutouts to Tego Calderon and Willie Colón, and an ode to Dominican speaker culture for a set that was simply for mi gente on Coachella's first night. —R.C.
Post MaLOWne
Bad Bunny bringing Post Malone out midway through his Friday headlining slot wouldn't have been our first guest choice, but we weren't going to complain — until things began malfunctioning. The microphones stopped working; Post's guitar's sound was out. It was a terribly awkward moment for an otherwise great set. —A.S.
WHOA: The older crowd can hang too
The place to see new-wave forebearers share the stage with disco and punk legends wasn't, improbably, some Grammy tribute, but apparently the Zillennial stomping ground that is Coachella. Besides Blondie and Nile Rodgers, there were '90s rockers the Breeders, who played a lively, nimble set on Sunday featuring fan favorites "Cannonball" and "Drivin on 9," along with a cover of the Beatles' "Happiness Is a Warm Gun." Coachella may have pulled back on booking older acts in recent years, but the classics earned some respect this year. —J.C.
HIGH/LOW/WHOA Frank Ocean
A high for Frank showing up for his first performance in six years, a resounding low for getting the set cut short due to a curfew and barely being visible on stage, and a big whoa for that wild, modulated remix of "Solo." –A.S.
HIGH: A/C with Alex G
When it's 90 degrees out, the Sonora tent is your best friend. Originally created to showcase Latin music, the enclosed, air-conditioned space has become a great spot to decompress, have a cocktail, and enjoy some good ol'-fashioned indie rock. This year's highlight: Alex G, who delivered one of the cleanest and best-sounding sets of the weekend, playing his 2022 album God Save the Animals in its entirety, along with "After All" and "Headroom Piano." —R.C.
LITERAL HIGH: Pusha T's "Welcome to Cokechella" sign
Plus visuals that um … detailed step-by-step instructions to cooking crack? Push is nothing if not on brand. —R.C.
WHOA: Björk stars as Björk
Elusive chanteuse Björk's performance alongside conductor Bjarni Frímann proved to be one the weirdest sets of the weekend. Similar to the setup of her Cornucopia shows, the Icelandic artist rearranged songs from her entire discography for an orchestral performance. The highlight: set closer "Pluto," which she sang in a giant bubble outfit, because … of course. Interesting thinking on Coachella's part to throw an experimental quirky thinker-type set before Frank Ocean. The whole crowd seemed to be standing there just waiting for Björk to finish. Welp, their loss! —R.C.
LOW: The music enjoyer's conundrum
Booking Yung Lean, Ethel Cain, and 070 Shake at overlapping times. — R.C.
LOW: The gay person's conundrum
Booking Mura Masa, the Linda Lindas, Charli XCX, and Hiatus Kaiyote at overlapping times.— R.C.
HIGH: Desis takes over the desert
Between Joy Crookes, Ali Sethi, Jai Wolf, Diljit Dosanjh, and Jai Paul, the region's growing influence on the music scene was well represented. Fans finally got to have the religious experience of seeing Paul's "Str8 Outra Mumbai" live and Dosanjh hit Coachella with a "Sat Sri Akaal" before turning the stage into a gigantic bhangra jam. Also: Nia Archives, who is not desi, playing a massive jungle remix of a bhangra track (minutes after a jungle remix of freaking Bobby Caldwell's "What You Won't Do for Love") without so much as a wink. —Hershal Pandya
CORRECTION: A previous version of this story incorrectly spelled Jai Wolf's name. It has since been updated.