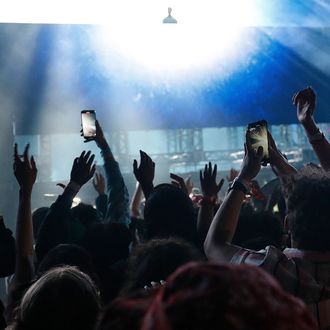 You don't have to go home, but you can't stay onstage.
Photo: Christina House/Los Angeles Times via Getty Images
It's not exactly the most exciting conclusion to a years-in-the-making festival set to hear, "Guys, I'm being told it's curfew, so that's the end of the show." Understandably, after Frank Ocean's confusing headlining performance at Coachella, that led some fans to wonder: Does the A-tier festival in the middle of the desert really have a curfew? Turns out it does, and it really got broken this year. Multiple outlets report that the festival was fined $117,000 for curfew violations on all three nights by the city of Indio, California. Not only did Ocean's set go 25 minutes past the midnight curfew on Sunday, Bad Bunny and Calvin Harris also went past the Friday and Saturday curfew of 1 a.m. by 25 and 22 minutes, respectively. Per Coachella's agreement with Indio, going five minutes past curfew costs $20,000, plus $1,000 for each additional minute. That means Ocean and Benito each cost the fest $40,000, while Harris added $37,000 to the tab. Let's hope they've budgeted more for weekend two.