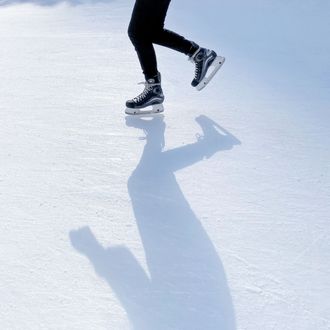 Ice rink in your area.
Photo: Gerenme/Getty Images/iStockphoto
Frank Ocean may not be returning to Coachella's second weekend, but the festival isn't icing out a chance to see his alleged ice rink just yet. Coachella is reportedly trying to get another performer to use Ocean's ice rink, a source told Billboard ahead of the festival's take two. That's because the festival reportedly spent millions on the ice rink in production costs and a massive amount of energy to keep the ice cold, outpacing the $4 million Ocean was paid for his first-weekend set. That means Ocean didn't turn a profit on the headlining performance, for which he eventually scrapped the ice-rink plan. His weekend-two replacement, Blink-182, is reportedly being paid his $4 million rate, and the festival will need to cough up some more for Skrillex, Four Tet, and Fred Again's additional set.
But that still leaves Coachella with an unused ice rink — sorry, ice pad, according to Billboard. The ice can't be used for a public rink, so the festival is reportedly, in Billboard's words, "working out how to incorporate it into another yet-to-be determined performance." An ice-dancing routine to Björk's Fossora, perhaps? Blink-182 fulfilling the dreams of their fallen headliner — and Tom DeLonge fumbling around on ice? Wait, do the Blackpink girls know how to skate?! It'll be the coolest cameo to keep your eyes peeled for this weekend.