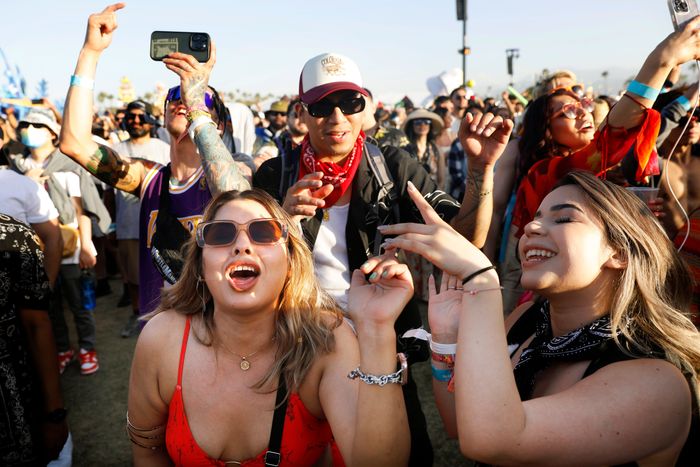 Becky G fans Dulce Arellano (left) and Betzy Martinez (right).
Photo: Christina House/Los Angeles Times via Getty Imag
I hadn't even stepped foot onto the Coachella grounds before I was overwhelmed by a familiar site — Eddie Guerrero "Latino Heat" tees, Selena merchandise, Puerto Rican flags draped over shoulders. A drunk man who went by Tito later told me that at the will-call line that morning, he was surprised by "the sheer amount of Spanish speakers."
So was I. Sure, Coachella's lineup for 2023 was more diverse than ever: the first to have a set fully sung in Arabic, the first for a Punjabi act, the first to feature Korean headliners. The artist list was particularly attuned to the Latin market, with Bad Bunny headlining Friday night and an undercard featuring Becky G, Colombian American up-and-comer ¿Téo?, and "alternative-sierreño" artist DannyLux. It was all part of a greater effort by organizer Goldenvoice to feature a more diverse slate.
But I never expected inclusion to extend to the crowd. Before this weekend, my (everyone's?) general perspective of the desert fest was that the attendees skewed heavily white. The lineups — not to mention tickets that cost upwards of half a grand — gave 'Chella a Vineyard Vines–meets–oontz oontz vibe. Mostly, I was worried my first experience there would mirror previous encounters I had at other big festivals, where barbed microaggressions and a general sense of displacement were the norm. At Primavera Sound in Barcelona, I was being "a little too loud" for some (white) people's liking during Megan Thee Stallion's performance. At This Ain't No Picnic in Pasadena, someone got mad at me because my hair was too big.
Imagine my surprise, then, at feeling not only welcome at Coachella, but at home. During Becky G's afternoon set, she donned a tejana and asked the crowd, "¿Donde esta mi gente Latino?" to resounding cheers. People were waving Mexican flags, stomping their vaquero boots, and chanting, "O-tra! O-tra!" after every pause. This was a celebration of regional Mexican culture, and the Latin-heavy crowd ate it up. The stage design was inspired by the architect Luis Barragan, and there were guest appearances by fiery wunderkind Peso Pluma, banda-mariachi quartet Marca MP, and JOP, the lead singer of urban Mexican group Fuerza Régida, who dropped by to perform "Bebe Dame" while Becky danced a cumbia. When Natti Natasha showed up to sing the sultry, homoerotic "Sin Pijama," I locked eyes with other Latin folks who were dressed in tank tops and bucket hats emblazoned with the Bad Bunny Un Verano Sin Ti heart. We smiled at each other, a silent acknowledgment of the moment's importance. The response to Becky was a testament to the hit-making Latin music machine: the sheer star power of big acts being able to mobilize a whole community. By booking them, Coachella was finally catching up to the rest of the music industry and making its space culturally accessible to all.
When I moved into the crowd later that evening for Bunny's set, mi gente were all around me. From where I stood, it felt like I was at Vibra Urbana Miami or Baja Beach Fest in Mexico. I spoke to a Latin couple from Texas, who were also astounded by the representation, and heard a group of women translating everything for their monolingual friends. Before the performance, a Brazilian man leaned in close to me and, with a smirk and in an accented drawl, said we were in the "solamente Spanish-speaking Bad Bunny lover section."
Benito's set began with a video of him narrating a detailed history of Coachella and its various performers. Notably absent, with the exception of footage from Benito's 2019 appearance at the fest, were Latino artists. The clip ended with him stating, "So many of them, but no one like me," before he popped up onstage to the opening chords of "Titi me Pregunto." In a nod to the people of Puerto Rico, Bunny stood on top of a structure fashioned to look like the same Calle Loíza gas station he had performed on in 2022 — a si sabes, sabes moment for those who'd witnessed it firsthand.
Bunny asked the crowd if he should speak in English or in Spanish, and we gave a resounding cheer for the latter. I heard people bonding over their respective origins, draping Puerto Rican and Brazilian flags over each other, and linking arms to belt songs like "Si veo a tu mamá" and the chorus of "Te boté." Fellow reggaetoneros Jowell & Randy and Ñengo Flow showed up to perform their features on the brooding "Safaera," and Jhayco popped in to sing on "Dákiti," "Tarot," and the "No me conoce" remix. Benito later gave a Latin-music history lesson, name-checking Black artists' influence on Caribbean music culture and chronicling the creation of both salsa and reggaeton. Screens lit up with the portraits of Celia Cruz, Héctor Lavoe, Tego Calderon, and Daddy Yankee. The salsa section was paired with a dance break set to classics by El Gran Combo, Ismael Rivera, and Pete Rodriguez. One of the men I was near loudly exclaimed, "Aw, man, I haven't heard this in ages!" every time the mix transitioned "Brujeria," by El Gran Combo de Puerto Rico, into another recognizable anthem.
I thought back to being a kid, listening to Tito Puente and Frankie Ruiz on my dad's first-gen iPod, of ordering pernil on the streets of West New York, of Puerto Rican festivals near my hometown in New Jersey, of those same songs blasting out of blown-out boom boxes and retrofitted car subwoofers. This culture has been with me my whole life, but I had never seen it given such a platform. Watching one of the biggest artists in the world extol his love for our shared culture, it felt like Coachella was finally catching up. It only took 24 years to get there.