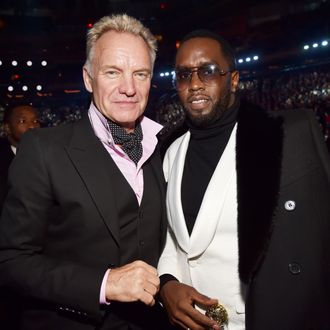 It's a business relationship.
Photo: Kevin Mazur/Getty Images
Update, April 7: Well, don't hold your breath. Diddy clarified that he "was joking" when he tweeted that he now pays Sting $5,000 per day for his unauthorized sample of "Every Breath You Take." "It's called being Facetious!" he wrote. Diddy went on to clarify that while Sting isn't charging him, he's still pocketing money from the song (to which he owns 100 percent of the royalties). "He never charged me $3K or $5K a day for Missing You," Diddy wrote. "He probably makes more than $5K a day from one of the biggest songs in history." Wait — more than $5,000? Not that Diddy will be missing that.
Original story, published April 6, follows.
Every breath Diddy takes, every move he makes, there's one bond he won't be able to break — he'll be payin' Sting. That's for an originally unauthorized sample of the Police's song "Every Breath You Take" on Diddy's own 1997 hit "I'll Be Missing You," which Sting took the rap mogul to court over and won in the early 2000s. In 2018, the Police singer-songwriter told a surprised Charlamagne Tha God on The Breakfast Club that Diddy pays him $2,000 a day after he won 100 percent of the song's royalties. That's already a good chunk of change, but that was 2018. When the Breakfast Club clip resurfaced recently, Diddy clarified that the number has apparently gone up. "Nope. 5K a day," he tweeted. "Love to my brother @OfficialSting 😎✊🏿🫶🏿!" Love is one way to put it; court-sanctioned payments might be another. But we're stuck on that $5,000 a day part: enough for a couple months' rent, a tropical vacation, a few hundred pizzas, or, if you're down to save for a few days, a nice sports car to add to the collection. Wonder what Sting spent his check on today.