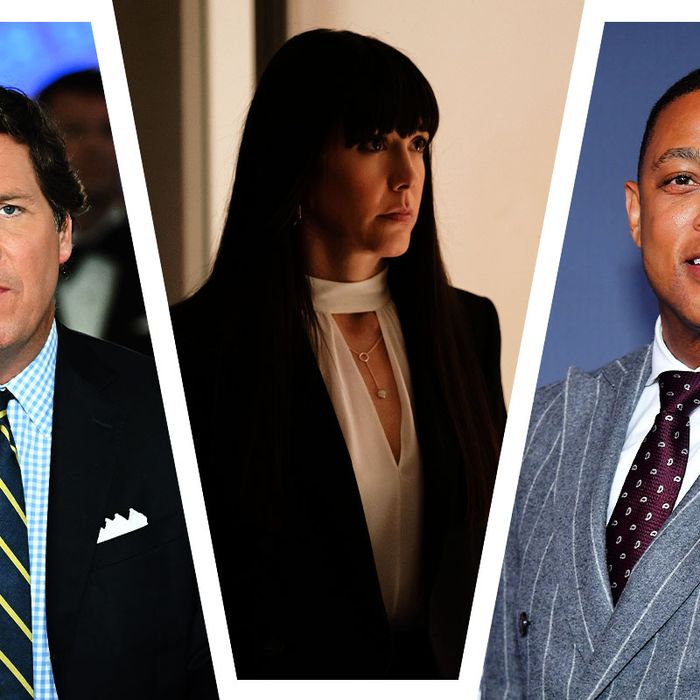 Photo-Illustration: Vulture; Photos: Getty, HBO
The plan to get Kerry Castellabate on cable news is coming together nicely. Prime-time anchors Don Lemon and Tucker Carlson left their posts at CNN and Fox News, respectively, on April 24, giving Succession's former executive assistant and paramour to Logan Roy a path to achieve her political-pundit dreams. Everyone and their mama thinks Kerry could easily step into the roles Lemon and Carlson left behind, according to loads of tweets. Based on her ATN audition tape, it is a massive indictment of the ousted anchors' performance if an untrained person with stiff delivery and awkward arms is up for the task. "Fox News Media and Tucker Carlson have agreed to part ways," Fox News said in a press release at around 11 a.m. "We thank him for his service to the network as a host and prior to that as a contributor." The news comes as Carlson is accused of misogyny behind the scenes and the company settles with Dominion Voting Systems for $787 million over some of the conspiracy theories that Carlson helped to spread during the 2020 election.
Lemon, for his part, told the public about his departure himself at 12:14 p.m., about an hour later. "I was informed this morning by my agent that I have been terminated by CNN," Lemon wrote in a statement posted to Twitter (he must have lost whoever on his team drafted such notices — the one he shared is written in massive blue Arial font with no margins to speak of), before saying he was fired unceremoniously after 17 years at the company. "I am stunned … It is clear that there are some larger issues at play." The larger issue being his potentially sexist statements and the fact that CNN saw how much noise Kerry's audition was making on the internet and simply wanted a piece of the pie. Marcia "we're calling Kerry a taxi to the subway so that she can go home to her little apartment" Roy will be sick if she turns on prime-time cable news in the near future.