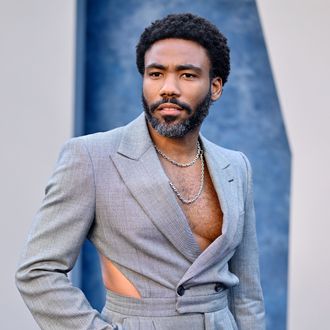 This is Donald Glover.
Photo: Lionel Hahn/Getty Images
When Donald Glover hosted Saturday Night Live in 2018, one thing dominated his monologue (and his mind): Why didn't Donald Glover book SNL? The Grammy- and Emmy Award–winning multi-hyphenate auditioned for the show (twice) but didn't make the cut. Well, in an April 4 GQ profile, Glover says Amy Poehler told him he didn't get on the show because his stand-up "lacked a point of view." "Me being on SNL would've killed me," he said. "I got friends who made it on SNL and, at the time, I was like, damn. But if I got on SNL, my career wouldn't have happened." And look, SNL's pretty cool, but we might not trade that for Atlanta either.
Glover did book a job as a writer on 30 Rock while he was still an RA at NYU. "There is no animosity between us or anything like that, but [Tina Fey] said it herself … It was a diversity thing," he recalled. There was a little animosity from the man next in line for the job, Kenya Barris. "I didn't know it was between me and him until later," Glover added. "He hit me one day and he was like, 'I hated you for years!'" Remember: If he'd booked 30 Rock there might not have been a Black-ish (or a Grown-ish or a Mixed-ish). Plus, he'd already co-created the best show of the 2000s, America's Next Top Model. Success looks different for everyone.