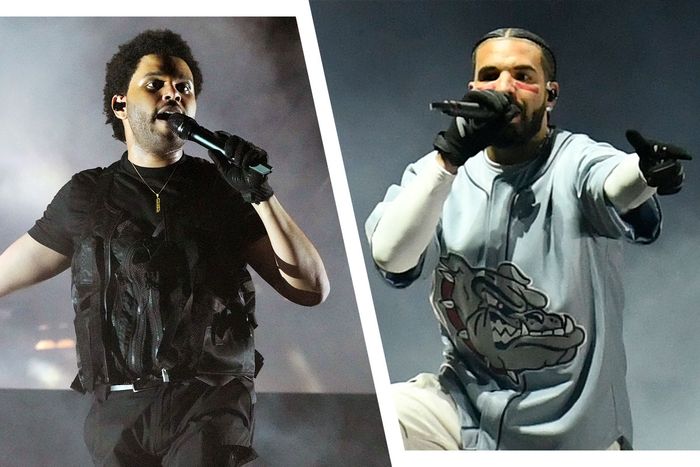 Photo-Illustration: Vulture. Photos: Getty Images
Earlier this month, Drake broke the internet again, but this time it wasn't his doing. A TikTok user named Ghostwriter977 posted a song called "Heart on My Sleeve" that appeared to have been made by the producer Metro Boomin, featuring Aubrey and the Weeknd on vocals. The problem? None of them were involved in the making of the song in the first place; the track was created with AI.
"Heart on My Sleeve" was eventually removed from streaming services because it contained a sample of producer Metro Boomin's audio tag — a clear copyright violation. But the rights around who can create vocal sound-alikes are much more opaque than you'd think, and not covered by U.S. copyright law.
"Heart on My Sleeve" may not be the first musical deep fake — check out Kanye singing "Hey There Delilah" for a good laugh — but it is the first to break through and cause creative consternation. While impersonating someone else does not pass the smell test of ethical creative appropriation, the legality of this practice could take years to be decided by Congress and the courts. More immediately, music labels are now up in arms trying to combat the incoming onslaught of artificial-intelligence tracks. Artists and rights holders have very good reason to be concerned: It's incredibly easy to make one.
I was asked by The Vergecast (Vulture and The Verge are both part of Vox Media) to demonstrate how:
If I can do it that quickly, then pretty much anyone can. In fact, in the past 24 hours, a handful of new Drake AI tracks have appeared, likely made using a similar method. This technology isn't going away soon, and what happens next could have a profound impact not only on the future of music but artificial intelligence as a whole. Listen to an excerpt of how I made "Laser Bong" on Switched On Pop, and catch the whole story on the latest episode of The Vergecast.