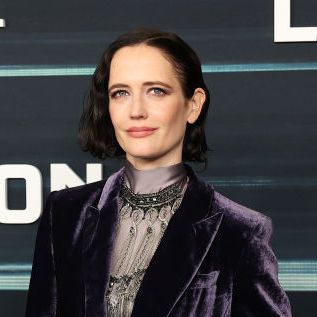 Photo: Marc Piasecki/Getty Images for Apple
Turns out you can be the money and win it, too. Per The Guardian, a U.K. judge ruled on Friday that Eva Green is owed a $1 million fee for the sci-fi movie A Patriot, which was scrapped in 2019. "In this legal action I was forced to stand up to a small group of men, funded by deep financial resources, who tried to use me as a scapegoat to cover up their own mistakes," the actress wrote in a lengthy Instagram statement posted after the ruling. "I am proud that I stood up against their bully-boy tactics." She had sued White Lantern Films and SMC Specialty Finance over the $1 million payment, arguing that she signed a "pay or play" contract that meant should be compensated even though the project she feared would be a "B-movie" was never made. The judge also dismissed a counterclaim that alleged that Green breached contract and ruined the project through "excessive creative and financial demands." White Lantern Films and SMC Specialty Finance said in a joint statement that they are considering an appeal, and denied that "gender-based bullying" played any role in the legal battle.
In her statement, Green criticized media outlets for misrepresenting her "desire to make the best possible film" as "female hysteria," adding that she fought to defend the "beautiful film that I loved and had signed on for." (During the case, several of Green's private WhatsApp messages about A Patriot were revealed in court — per The Guardian, she described the production as a "B-shitty-movie," referenced "shitty peasant crew members," called executive producer as a "devious sociopath" and "pure vomit," and said a production manager was a "moron.") Justice Michael Green was reportedly not convinced by the actress's explanation that the harsh messages were due to her "Frenchness," but ultimately concluded that she did not breach her artist agreement and that most of her evidence was "credible and fitted with her general commitment to the film." Find her full statement below.