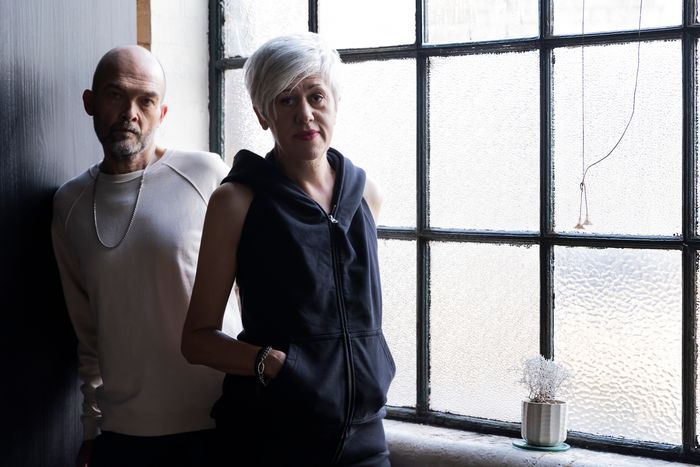 The lesson of
Fuse:
Find the person who'll help put you back together when your world shatters.
Photo: Edward Bishop
Everything But the Girl has had an exceedingly strange journey, a death-defying expanse of near misses, fateful encounters, and unexpected comebacks spanning decades, from Thatcher-era sophisti-pop to the modern, world-weary resilience of this month's Fuse, the pair's 11th album and first in 24 years. Tracey Thorn and Ben Watt became inseparable in the early '80s while he was writing polished folk songs and she was chafing at the limitations of her role in the seminal lo-fi quartet Marine Girls (favorites of Kurt Cobain, as noted in his Journals). The duo brought diverging sensibilities to their collaborations: Growing up, Thorn collected punk, pop, and soul singles; Watt worshiped the fretwork of John Martyn and Neil Young. The early albums were all attempts to either eschew or adapt modern rock-radio trends to fit their own tastes. 1984's Eden followed Paul Weller's Style Council through folk and smooth jazz; 1985's Love Not Money served a slicker, poppier (Morrissey-approved) take on the dour, catchy sound of the Smiths; and 1986's Baby, the Stars Shine Bright coated soul songs and pop ballads in enveloping orchestral arrangements.
It spoke to Thorn's range as a listener and singer and Watt's technical chops that Everything But the Girl pivoted from the placid jazz-pop of "Each and Every One" to the ocean of shimmer and jangle in "When All's Well" and the unabashedly catchy and unexpectedly traditional "Don't Leave Me Behind" as quickly as they did in those years. But the wild swings made them tough to follow and to market, and the writing was not always as potent as the urge to toy with the musical formula. Everything But the Girl's story seemed all but over in the early '90s when Watt fell rapidly ill, diagnosed after weeks of pain and respiratory distress with Churg-Strauss syndrome, an autoimmune disorder whose attack on his small intestines necessitated the systematic removal of ten feet of necrotic tissue, via a string of precarious surgeries, and a rocky recovery.
Thorn and Watt — a couple since very early on, though they played it down in interviews — regrouped, and the musings about intimacy on 1994's Amplified Heart seem to touch on their experience of finding new footing not just as a band that had painted itself into a corner with ever-slicker and statelier pop records but as soulmates. It was that, alongside Watt's newfound taste for synthesizers and drum machines — and the interest of trip-hop pioneers Massive Attack and influential American DJ-producer Todd Terry — that lit the spark that revived Everything But the Girl for the first time. Thorn's work on the group's Protection album put them back on the charts and in touch with a new audience, as did Terry's reworking of the rhythm section on Amplified Heart's "Missing," which languished on the charts in 1994 but by 1995 felt inescapable, such that in 1998, when Madonna noted that she'd been listening to the duo while crafting that year's Ray of Light album, she would concede that people were tired of hearing that song.
Everything But the Girl were tiring of the attention themselves. Between the exquisite jungle and drum-and-bass explorations of 1996's Walking Wounded and the careful adoption of garage across 1999's Temperamental, the pair became parents to twins, and touring and recording became a strain. Thorn quit music to raise their children in the aughts while Watt ran a label and club night. After marrying, they navigated parallel solo careers as musicians and as authors. (The memoir Bedsit Disco Queen recounts Thorn's ascent to chart success and her reasons for hanging it up; Patient lays out the story of Watt's illness and thorny upswing in painstaking detail.) The pandemic tore a hole in everyone's schedule, though, and an old idea stirred.
Like Amplified Heart, Fuse is a phoenixlike resurgence after what seemed like the end of the story. "When You Mess Up," the first song Thorn and Watt wrote together since 1999, is an alluring window into the new album's balance of classic sounds and fresh perspectives and into the joy apparent in the rekindling of the musical relationship at the core of the group. Thorn gives advice for finding peace in your rocky 20s — "In a world of microaggressions / Little human transgressions / Forgive yourself" — while Watt warps the vocals over gently clattering melodic and percussive elements. It's culture-war commentary delivered as motherly advice, folding this band's taste for torch songs into its expertise in ambient electronic music — a feat the new songs accomplish effortlessly, perched at the place where pop hits, club staples, and rejuvenative spa music meet.
Fuse makes space for sleek dance music, luxe art-pop, and burbling ambience, finding new dressings for the crisp, intimate recordings and emotional directness that inspired Madonna and Nirvana, forming a bridge between the synth-laced indie-pop of Young Marble Giants and the soulful, minimalist dance-pop of the xx, James Blake, and others. Thorn's richer vocal tone is a delight. You can almost feel Watt's excitement for producing it again in the ways he twists and distorts it in "Mess Up" and "Interior Space." Handling most of the instruments and programming here, he tiptoes around R&B, hip-hop, glitchy noise, and house music, bringing the band up to speed on decades of developments in the mainstream and underground without diluting their identity.
Fuse is a meditation on the double-edged power of the evening hours to enchant shared experiences like club nights and moonlit trysts but also to amplify the hollow feeling of lonely ones. The mix of skittering synths and drums and excursions into Thorn's upper register on opener "Nothing Left to Lose" rapidly arrives where "Missing" got us while imagining the post-millennial dance hits Everything But the Girl might have made if they hadn't taken a long break. The song drops us off in a tight spot as Thorn seeks solace from pain: "Kiss me while the world decays / Kiss me while the music plays." It introduces the theme of love under duress while getting straight to the spacious sonics and understated melodies you seek when you get a taste for this group.
The mid-album stretch comprising "Time and Time Again," "Lost," and "No One Knows We're Dancing" displays Fuse's ease in marrying a modern sense of heightened stresses (and shorter … fuses?) to music that embraces Everything But the Girl's storied history while pushing it in other directions. "Time" sticks trap drums on a love song cut from the same cloth as Jon Secada's "Just Another Day" and Seal's "Crazy," and "Lost" taps into the chirping electronics and delicate acoustics that make Björk albums feel like techno-organic paradises. The feathery Italo disco of "No One Knows We're Dancing" recalls Watt's late-'90s club engagements and gives Thorn tasty character studies and couplets — "Parking tickets litter / His Fiat Cinquecento" — that explore the daytime lives people shake off in the anonymity of dimly lit clubs.
The messages in the stories Fuse highlights — "Call yourself a loser and they will too," "Don't be so hard on yourself / For God's sake have a cigarette," "No more games / Start thinking what you'd save from the flames" — are lessons gleaned from years of beating the odds: Find the person who'll help put you back together when your world shatters, when your label gets sick of your shit, when your physical and mental health hang in the balance. It also advises lightening up wherever possible. Closer "Karaoke" wonders aloud what a singer's motivations ought to be on the microphone: "Do you sing to heal the broken hearted … Or do you sing to get the party started?" It's a question that has loomed over Everything But the Girl since the early records, where the duo thrived on challenging and complicating the listener's idea of what a pop song or a folk song or a jazz song could sound like, to the unlikely '90s hit parade that set the stage for a decade of successful pairings of folk and electronic music (Beth Orton's Trailer Park, David Gray's White Ladder, and Four Tet's "Nothing Left to Lose" remix, which brings that influence full circle). Watt resolves whether the duo sing to ease pain or seek pleasure in Fuse's Apple Music notes: "Both, is the obvious answer."