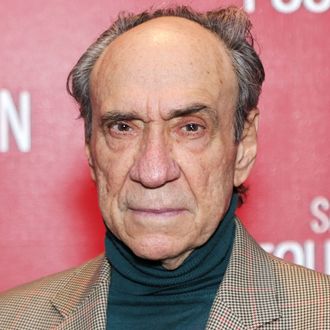 F. Murray Abraham.
Photo: Michael Loccisano/Getty Images
Update, April 20, 3:45 p.m.: F. Murray Abraham has released a statement following allegations of sexual misconduct on the set of the Apple TV+ series Mythic Quest. "This is a sincere and deeply felt apology," he writes. "Though never my intention to offend anyone, I told jokes, nothing more, that upset some of my colleagues and as a result lost a great job with wonderful people. I have grown in my understanding from this experience, and I hope they will forgive me."
Original story follows.
An exclusive story in Rolling Stone has revealed that the 'F' in F. Murray Abraham stands for 'Fuuuuuuck, not this guy too!' On April 17, the magazine reported that F. Murray Abraham's departure from the Apple TV+ comedy series Mythic Quest in 2022 was a firing stemming from at least two separate allegations of sexual misconduct on set. Someone involved in the production of the series said that after the unspecified "first incident" of reported inappropriate behavior, Abraham was "told to keep away from some of the show's actresses" and given a warning. He was let go from the show after another incident was brought to the attention of the series creator and star, Rob McElhenney. Abraham played head video game writer C.W. Longbottom, himself a workplace pest.
At the time of his dismissal from the series in April 2022, neither Lionsgate nor Abraham gave a statement about why Abraham was departing the series. The show wrapped up the character's plotline in the season three premiere in November, 2022, killing him off in an offscreen suicide that borrows heavily from Thelma & Louise and ends with him having his remains shot into space above the MQ HQ like a shooting star. "It's a bummer to not have Murray in this season," McElhenney said to Variety at the time. "But we recognize that C.W. is a beloved character and obviously a huge part of the show. So, we made sure that we have a really fitting tribute to him."
In a statement to RS, a rep for Lionsgate said, "We take allegations of misconduct seriously and investigate them thoroughly. As a matter of corporate policy, we do not discuss our personnel actions." Representatives for McElhenney did not respond to Vulture's request for comment.