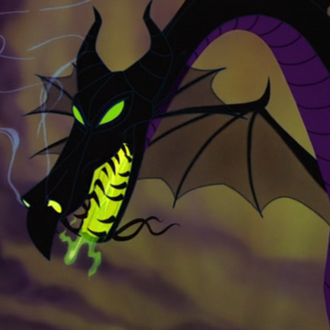 Disneyland's average guest demographic breakdown is: 30% people on vacation, 70% livestreamers who basically live at the park. This can be annoying when you're in line to get a new limited edition churro, but it's a friggin' gold mine when a robotic dragon catches fire. Last night, the dragon from nightly show Fantasmic! caught fire in fantasmic fashion. At one point, the robot dragon breathed fire while itself being on fire. It was one of the more metal things to happen this week (alongside Vera Farmiga singing Slipknot). Parkgoers caught the animatronic fire from every angle, at every stage of burn. And theme park Twitter was there to meme the whole thing. Which was the biggest meltdown on Twitter this weekend: dril vs. the verification team, or the giant flaming dragon?
On Monday, Deadline reported that Disney Parks are "temporarily suspending fire effects" similar to the ones used in the show "globally out of an abundance of caution" following the Fantasmic fire. Disney Parks will continue with the Fantasmic show this weekend and nightly fireworks.
"During the final showing of Fantasmic at Disneyland park on Saturday evening, the dragon caught fire. Anaheim Fire & Rescue quickly responded and the fire was extinguished," Disneyland said in a statement to KTLA on Sunday. "All cast members were evacuated from Tom Sawyer Island." The cause of the fire is yet to be determined. This is not the first Maleficent dragon to catch fire while on stage at a Disney park. A parade float version caught fire in 2018 at Walt Disney World.