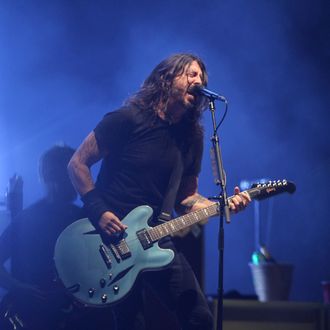 Photo: Medios y Media/Getty Images
Just over a year after the death of their longtime drummer, Taylor Hawkins, the Foo Fighters are back with new music. The band released "Rescued," the first single and opening track of their 11th album, But Here We Are, out June 2. It's one of the Foos' most immediate, emotional songs in at least a decade, recalling their rough, pummeling early output. "But Here We Are is the sound of brothers finding refuge in the music that brought them together in the first place 28 years ago, a process that was as therapeutic as it was about a continuation of life," a press release states. The album was produced by frequent collaborator Greg Kurstin, but it's unclear who drummed on the new music. The press release compares the album to the band's 1995 debut — which was entirely performed by Dave Grohl back when he was better known as Nirvana's former drummer.
Aside from a tribute last year, the band has yet to perform since Hawkins's death. They'll headline a slate of festivals and other tour dates this summer, beginning with a show in New Hampshire on May 24 and including Boston Calling, Bonnaroo, and Outside Lands. Last month, The Sun speculated that the band would perform with Pearl Jam's Matt Cameron and Angels & Airwaves' Atom Willard, but Cameron since denied the rumor. Find the track list to But Here We Are below.
1. Rescued
2. Under You
3. Hearing Voices
4. But Here We Are
5. The Glass
6. Nothing at All
7. Show Me How
8. Beyond Me
9. The Teacher
10. Rest