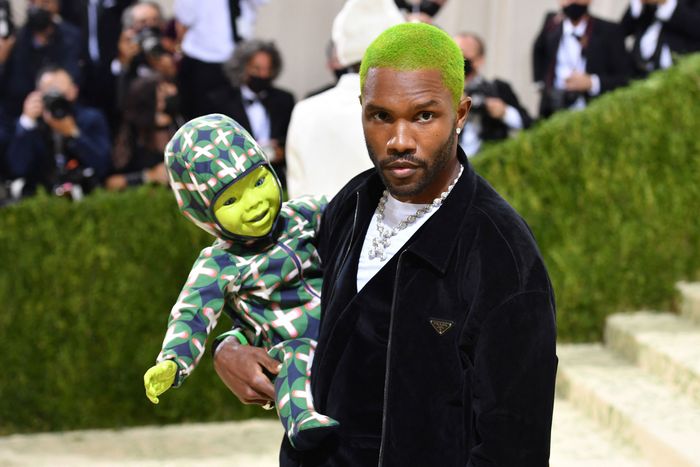 Frank Ocean, not at Coachella.
Photo: Angela Weiss/AFP via Getty Images
Frank Ocean appeared to arrive at Coachella on Sunday without a plan. Three years after his 2020 headlining appearance was canceled owing to COVID — and six years after his last official performance — Ocean put on the kind of show where it felt as if he wanted to be anywhere else.
After an hour-long delay, he kicked things off with "Novacane" while hidden behind some scaffolding designed to look like an intimate home studio. Unlike his 2017 Panorama Music Festival setup, which saw this work-in-progress approach out in the open, we could barely see him. New arrangements of classic songs kept things exciting — "White Ferrari" gained an electronic-drum backbeat, and "Chanel" became a sped-up trap remix with a bass-y saxophone synth on top — but the pace was touch and go. There was lots of gesturing and not much singing as he roamed the stage while the studio version of his songs played. (A source close to the situation tells Vulture that Ocean suffered an ankle injury during rehearsals, forcing them to adjust the original production plan.)
A lot has changed for Ocean since his last performance. In 2020, his younger brother, Ryan, died in a car accident at 18. The two siblings used to attend Coachella together, something Ocean made a point to mention at the top of his set.
"My brother and I came to this festival a lot," he told the crowd. "One of my favorite memories was watching Rae Sremmurd with my brother and Travis [Bennett], just dancing to their music. I know he would've been so excited to be here with all of us."
For someone so private, it was an unexpected moment of candor. But it was also deeply upsetting — the audience was watching an artist who might not have been ready to perform in public doing it anyway. It cast a pall over the performance, turning songs such as "Self Control" exceptionally morose and bittersweet.
Was Ocean just there to commemorate his brother and fulfill a contractual obligation? Maybe. But then he also noted how much he has missed his fans: "I want to say thank you for the support and the ears and the love over all this time," he said before teasing a possible album. ("Not that there's not a new album. But there's not right now.") The appreciation seemed to fall on deaf ears, though. Less than an hour later, Ocean cut his set early due to the festival's Sunday-night curfew, leaving everyone around me angry and searching for more.
This post has been updated.